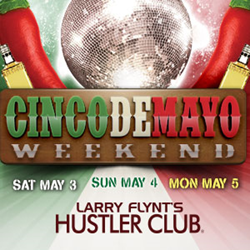 Cinco de Mayo is a special holiday, and we know how to do it right
San Francisco, CA (PRWEB) April 23, 2014
It's Cinco de Mayo Weekend at Larry Flynt's Hustler Club! The world famous San Francisco gentleman's club is celebrating the holiday all weekend long with exciting entertainment and a number of drink specials. The special Cinco de Mayo event will take place Saturday May 3rd – Monday May 5th.
"Cinco de Mayo is a special holiday, and we know how to do it right," said Axel Sang, director of marketing for BSC Management. "The Hustler Honeys are looking forward to partying with all our guests. It's sure to be a good time for all."
On Saturday, May 3 and Sunday, May 4, Larry Flynt's Hustler Club will be offering Coronas for $4 and Don Julio shots for $6. On Monday, May 5, Coronas will be available for $2, Don Julio shots will be $6 and tacos will be $1. In addition, there will be a live mariachi band at the club from 9:30 p.m. to 12:30 a.m. on Saturday. It doesn't get much better than this!
As always, Larry Flynt's Hustler Club San Francisco will feature live entertainment from the beautiful Hustler Honeys. Whether celebrating alone or with a group, the Hustler Club is the perfect place to spend Cinco de Mayo weekend. Stay for one night or all three; all guests are guaranteed to enjoy themselves.
For more information about Cinco de Mayo weekend at Larry Flynt's Hustler Club San Francisco, visit their website or call 415-434-1301.
Boilerplate/About Us: Larry Flynt's Hustler Club San Francisco is a world famous gentleman's club which delivers the ultimate adult entertainment experience to all their customers. Located in the North Beach district of San Francisco, The Hustler Club features a full bar, valet parking, private VIP booths, party packages, free car service, concierge service and VIP bottle service. Home to the stunning Hustler Honeys, the party at The Hustler Club never truly stops, offering San Francisco's true afterhours entertainment until 5 a.m. all weekend long. This premier gentleman's club is always ready to accommodate all their guests and show them a great time.