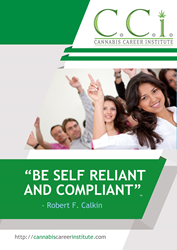 Learning about compliance and what really goes on in the industry is the most important first step to opening a successful business.
Detroit, Michigan (PRWEB) April 23, 2014
Detroit is scheduled for a Marijuana Business class on April 26th, to provide interested entrepreneurs the right way to start building their cannabis industry from the business perspective. Touching upon a lot of topics in the industry, Cannabis Career Institute offers students educational information that allows them to network, make business plans and get started in the potentially lucrative business across the nation, whether only in current legalized locations, or within a new city or state that permits cannabis business in the near future.
Understanding that the marijuana industry is already active in Colorado, Washington and California, plus a few other states, allows people to begin planning for their future infrastructure within their own states, as new legalization rules come into play - or to make decisions to try and work within the current legal framework.
Teaching compliance as the main topic in every part of the industry, Cannabis Career Institute offers a large amount of information to students that allows them to see the big picture, and allows them to have contacts within the industry itself.
Started by Robert F. Calkin, Cannabis Career Institute began operation in 2009 and is recognized at the Nation's Leader in providing Cannabis Business Education, with compliance in mind.
Learn what it takes to open up a dispensary, open up a delivery service, a grow operation or an edibles operation.
Speak to an attorney who will answer your local questions, attorney Matthew Abel has been a criminal defense lawyer in Michigan for 27 years, and is the Executive Director of Michigan NORML. Matt founded Cannabis Counsel, P.L.C., a four-attorney Detroit, Michigan law firm entirely devoted to cannabis clients and cases, providing both business advice and legal counseling as well as criminal defense in marijuana cases throughout Michigan. http://www.cannabiscounsel.com Since passage of the Michigan Medical Marihuana Act in 2008, the practice has rapidly grown to include not only business clients and issues, but also employment, drug testing, probation, family law, contract, real estate, landlord-tenant, and other issues surrounding cannabis. Cannabis Career Institute students will learn a variety of legal information surrounding the marijuana business side of the industry from Matt Abel.
Cannabis Career Institute welcomes interviews and media communication, as well as public questions in regards to the business side of the Cannabis Industry. The all day class in Detroit will be held at Embassy Suite and starts at 9 am.
For more information, or for media interview please contact:
Gary Lane
Marketing Director
818.669.5363
glane@cannabiscareerinstitute.com