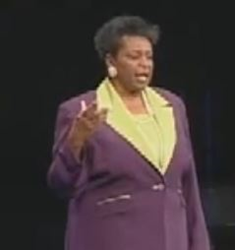 Do not settle for mediocrity because you have the ability to create excellence.
Eugene, Oregon (PRWEB) April 23, 2014
Kathleen Gage, host of Power Up for Profits - Inside the Heads of Amazing Experts Podcast, is pleased to announce industry expert, Dr. Daphne Clarke-Hudson is a featured expert on the show.
Daphne Clarke-Hudson is a nationally recognized empowerment specialist, inspirational professional speaker, author and a certified coach. Having more than 20 years experience helping others to lead purpose-driven, authentic and empowered lives, Daphne continues to bring insight, hope and solutions to our current and future leaders
As a role model she demonstrates the ability for people to overcome adversity. Daphne began her life's journey in Jamaica, daughter of dedicated, loving parents. Her mother had dreams of her obtaining a quality education, but passed before Daphne was 14 years old. Even without much money or formal education, she was determined to lead a purpose-driven life. Daphne found opportunities to shine time after time, eventually becoming a nurse and then a career coach and program director. She knew there was more for her to accomplish and launched a new career in the United States as a professional in sales, management and coaching, finally earning her PhD. Throughout every position she holds, Daphne always finds time to counsel and guide others. She creates these needed platforms for growth and change through facilitation, retreats, coaching engagements and training sessions.
As the first Certified Michael E. Gerber Dreaming Room Facilitator in Connecticut, she also works with entrepreneurs to create visions that guide their businesses. Whether delivering a Key Note Address, facilitating a corporate board retreat, coaching a small business owner, or offering diversity training to a nonprofit organization, Daphne brings an engaging energy, direction and passion with her. She is intuitive, dynamic, inspiring yet still accessible. Daphne has a very strong moral and spiritual compass and is guided by her sense of integrity and intuition. She is respectful, fair and believes in the talents and skills of people, no matter their race, religion, education or upbringing.
Daphne is an accomplished speaker, television and radio producer and host. She has received numerous awards and accolades. She was honored to be the Mistress of Ceremony at the highly acclaimed C4C Learning Center and T-House Conference where prominent U.S. attorney, Willie E. Gary was the featured speaker. For the past nine years, Daphne has been the empowerment specialist for the Federal Correctional Institute for Women in Danbury, CT. As the Ambassador for World Peace (IIFWP); She was presented recognition for excellence of leadership by the IIFWP on Capital Hill in 2002. Daphne received two proclamations from Connecticut's General Assembly for Community Service and Advocacy and Training work. For three consecutive years 2002-2004, she has been an Honoree for the International Who's Who of Professional and Business Women for significant Career Achievements and Contributions to Society. She is also an honored participant of the Korea, Japan and United States in the Pacific Era International Leadership Conference held in Washington, DC, with representation from 89 different countries.
Her Power Up for Profits Podcast can be accessed directly at http://powerupforprofitspodcast.com/007-dr-daphne-clarke-hudson-bigger-than-you-and-me/.
Join in on the Power Up Podcast at http://www.powerupforprofitspodcast.com/contest.
Power Up for Profits Podcast is where entrepreneur leaders from around the globe share their top strategies for entrepreneurs to Power Up for Profits to make massive amounts of money while impacting millions of people. The featured entrepreneurs and experts have extensive experience on branding, entrepreneurship, social media, making money online, social media marketing, Internet marketing and finance.
All have a proven track record of success on being successful entrepreneurs. Power Up for Profits Podcast is the is the place to be, to hear from the best of the best entrepreneurs on how to build a successful business while making a difference in the world.
Created and hosted by author Kathleen Gage, Power Up for Profits Podcast will reveal how entrepreneurs learn the truth about building a success six and seven figure business and gain incredibly high levels of visibility regardless of what their area of expertise or industry.
Power Up for Profits Podcast is designed for entrepreneurs who know their business is an expression of their life's work; those committed to making a positive difference in the world.
About Kathleen Gage
Kathleen Gage has been actively marketing on the Internet since 1997. She's taught thousands her internet marketing methods in seminars and training programs.
She is the "no-nonsense, common sense" online marketing strategist, speaker, author, product creation specialist, and author of Power Up For Profits! The Smart Woman's Guide to Online Marketing. She helps entrepreneurs make money online. Her clients are driven by making a difference through their own unique voice.
As an early adopter of online marketing, Kathleen is considered to be one of the nation's most passionate speakers. She is known for cutting through the fluff and helping people leave their sob stories behind so they can stop focusing on the past and start looking towards the future. She speaks and teaches about what she believes are the core elements of a successful life: accountability, integrity, honesty, and living with passion and hope.
Kathleen Gage is available for interviews, featured blog postings, articles and articles.
To learn more and/or set up an interview contact: Kathleen Gage at 541.746.5551 or kathleen(at)kathleengage(dot)com.