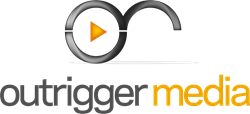 The Top 500 Brands on YouTube generate a total of more than 720 million views against their content each month.
New York, New York (PRWEB) April 23, 2014
Outrigger Media today released "Top 500 Brands on YouTube," an industry report detailing the content strategies of the largest and most successful brand marketers on YouTube. This is the second annual report from Outrigger and presents detailed analytics on brand channels by industry vertical, based on audience and engagement data from the company's OpenSlate video analytics platform.
OpenSlate measures and scores more than 160,000 YouTube channels on their ability to attract, engage and influence an audience. The report highlights brands – including Audi, Geico and Samsung Mobile – that have successfully invested in a YouTube content and media strategy, while also adapting audience development tactics employed by the most successful YouTube creators overall.
This year's report also includes data from an in-depth survey of more than 200 YouTube media buyers and planners. The survey queried buyers on the interplay of YouTube content development and media buying strategies.
The Top 500 Brands Channels on YouTube:

Generate a total of more than 720 million views against their content each month
Have a total of 41 million subscribers with Education, Food & Beverage and Technology brands averaging the largest subscriber base per channel
Generate an average of 136,000 views per video
Download the full report here.
According to data from a survey of more than 300 online video media buyers, of which two-thirds have purchased YouTube media in the past 12 months:

YouTube media buyers are 49% more likely to see dollars moving from TV to online
Only 19% of YouTube buyers consider their brand channel subscriber growth a KPI when purchasing media on YouTube
13% of YouTube media buyers create content especially for YouTube buys while 33% "always" use repurposed TV ads
"Our research clearly shows that many of the largest brands have acknowledged the unique opportunity of marketing on YouTube with an increased focus on their content strategy and media to support it," said Mike Henry, Outrigger Media's CEO. "These brands have embraced YouTube audience development best practices and have been rewarded with more than 70% more views and over 120% more subscribers in the past year alone."
The report is available to download at http://www.openslatestudios.com/news.
ABOUT OUTRIGGER MEDIA
Outrigger Media is a software and analytics firm focused on brand marketing within native digital video. The company developed OpenSlate, a video analytics platform, to help brand marketers find and target the most effective content for their message. The software currently measures and scores all ad-supported content on YouTube and lets advertisers program premium content networks from more than 60 million videos based on quality, brand safety and subject matter expertise. Learn more at http://www.OpenSlateStudios.com.