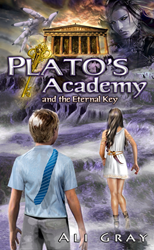 Awesome Book!
Sydney, Australia (PRWEB) April 24, 2014
A unique novel has just been released that turns Plato's complicated philosophy into an adventure story that appeals to children. In scenes from the book the characters find themselves escaping Plato's Cave, creating Plato's Ideal City and fighting with Plato's four elements.
"You have to make philosophy exciting," says Gray. "What better way to do it than turn Plato's ideas into a gripping time travel adventure story!"
The story is about a boy, Charlie, who receives a puzzling letter from his dead grandfather. The letter leads him down a shadowy staircase to the depths of a museum. Before Charlie knows it, he is whisked through time and transported to Ancient Greece, and there he learns he needs a special key to get home. Accompanied by Adonia, one of Plato's students, Charlie travels to the Oracle of Delphi's temple only to learn that to obtain the key he must pass a series of tests about Plato's ideas. Throughout the journey Charlie gains insight into Plato's theory about the afterlife and at the end-point he becomes at peace with his grandfather's death.
Ali Gray, a retired banker, spent more than twenty years managing high performing capital market teams in both Sydney and New York. She stumbled across philosophy whilst studying for an MBA and questioned why she was not exposed to philosophy earlier. Keen to have her own children exposed, she started writing children's books. Gray is also a strong supporter of philosophy in schools.
'Plato's Academy and the Eternal Key' is a stand out novel for anyone looking for an exciting introduction to Plato and his ideas.
"Awesome book … I couldn't put it down!" - Sophie aged 11.