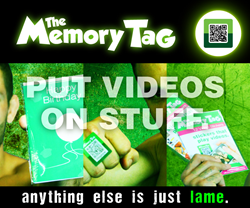 They intend to propel the greeting card market into the 21st century with bold, colorful vibrant cards that play videos.
Sacramento, CA (PRWEB) April 23, 2014
It started with Urijah Faber.
Known in the UFC community as the "California Kid" for his west coast origins and good-looking, likeable demeanor, Urijah Faber is considered by many to be the best pound-for-pound MMA/UFC fighter on the planet. He is also an accomplished author, speaker, trainer, and businessman. As such, Faber is extremely popular and followed by thousands via social media.
An avid practitioner of social media marketing, Urijah jumped at the chance to partner with MemoryTag, a company that is paving the way for sharing multimedia both online and in the real world. Video messages are easily added or changed on posters, merchandise, cards, and stickers by using MemoryTag codes that fans scan with their phone.
Fan feedback has become increasingly positive, resulting in an expanding domino effect with other respected fighters who are looking for the same success. Some of these MemoryTag warriors include Chad Mendes, Danny Castillo, TJ Dillashaw, Andre Fili, and Chris Holdsworth. MemoryTag videos from the gym are shared on Twitter. Signature cards are scanned for special updates. Contest winners receive greeting cards with a unique clip created specifically for them.
MemoryTag's influence doesn't end there. Recently, MemoryTag stickers were used by the UFC on merchandise tags hanging from limited edition fighter-designed T-shirts found on the UFC store. Scan the sticker, and you get to see a shout-out from the fighter who designed the apparel.
MemoryTag is looking for a David and Goliath knockout punch in an industry that has been limited to poetry in folded card stock. They intend to propel the greeting card market into the 21st century with bold, colorful vibrant cards that play videos. In an age where everyone has a smartphone, it makes sense.
If you ask someone who follows the UFC, MemoryTag's victory is already a forgone conclusion. You're likely to hear such phrases as "Real men use MemoryTag" or "Anything else is just lame".
For the big card companies out there: MemoryTag is coming for you.
Look for MemoryTag products online at Amazon. Video Card designs and themes cover the spectrum between Birthdays and Congrats to Thank You and Get Well. Find the card that best suits your occassion. For all other situations, try a Video Sticker. Pretty soon, you'll be sticking videos all over the place!
Get your stuff at: http://amazon.com/shops/memorytag.
For more info, visit http://theMemoryTag.com.