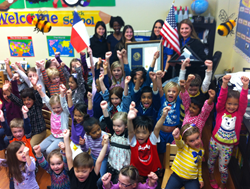 I am pleased that Musical Arts Schoolhouse has chosen to incorporate civics into its curriculum and Graduation Ceremony - Texas State Senator Ken Paxton
Frisco, Texas (PRWEB) April 24, 2014
The Graduation Theme this year at the Musical Arts Schoolhouse is ALL ABOUT TEXAS! And Senator Paxton will be on hand at the program to lead the children and audience in the Pledge of Allegiance, and also the Texas Pledge, plus award a special 'Texas Senate of Recognition' to each graduate.
"I am pleased that Musical Arts Schoolhouse has chosen to incorporate civics into its curriculum and Graduation Ceremony," said Texas State Senator Ken Paxton, District 8, upon learning that the school's kindergarten students recite the pledge of allegiance to both the American and Texas flags and have memorized the names and order of the U.S. Presidents as well as learned fun facts about each one.
Earlier this year, Senator Paxton presented the Musical Arts Schoolhouse with an Official Certificate of Appreciation from the State of Texas "On the Occasion of Learning The Texas Pledge of Allegiance", and also a Texas Flag that was flown over the Texas State Capitol in Austin. The framed certificate and flag are displayed in the MAS Kindergarten Classroom for all to see!
The Musical Arts Schoolhouse Graduation Ceremonies will be held at 10:00am on Friday, May 16, 2014 at the Christ Community Church at 9250 Pasadena Drive in Frisco (directly behind the Frisco School of Music building on Preston at Main Street). The program is broadcast live on the internet for extended family and friends to view, and also archived on the school website.
Lead MAS Kindergarten Teacher Ms. Kerry Douglas was very happy to talk about the theme of the Graduation this year. "We chose the theme of Texas, since we focus on the history and geography of Texas with our students in Kindergarten, and also famous Texans, Texas traditions and State Symbols".
The Cap and Gown Graduation Program will include the Pledge of Allegiance, the Texas Pledge, Texas and western songs (English and Spanish), readings, poems, dances, skits, and of course the stage walk and hat toss with diploma and certificate presentations.
The Musical Arts Schoolhouse is a private performing arts Preschool and Kindergarten with high academics through daily music, art, dance, theatre and Spanish located inside the Frisco School of Music.