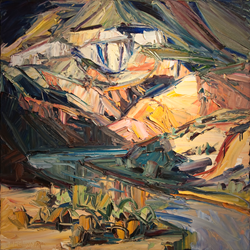 The marks, strokes and gestures of paint express forces of nature, both internal and external.Louisa McElwain
Santa Fe, New Mexico (PRWEB) April 24, 2014
EVOKE Contemporary presents a curated collection of paintings by Louisa McElwain focused on Spring. The show is scheduled to open in Santa Fe on Friday, April 25th and will run through Saturday, May 24th, 2014. There will be a public reception in honor of the artist on Friday, April 25th from 5 –7pm.
Louisa McElwain, 1953 - 2013, was a renowned New Mexico painter famous not only for her thickly impasted landscape paintings of the Southwest, but also her larger than life personality and adventurous, joyful soul.
Louisa lived fully with an extraordinary view and zest for life, which was unrivaled and contagious. Internationally recognized as a master painter, Louisa was a highly creative, intellectual mind, fully immersed in her spirituality, a great humanitarian, a self-sufficient gardener and ranch woman with immense compassion for her animals and the land. Her presence was like the summer storms she painted - always a refreshing surprise.
She accurately dubbed herself an "extreme painter". Her bliss and fulfillment came to her when she was painting. She frequently shared the stories of the power of nature pulsating through her body when she was one with her environment, and her astonishment of the paintings that resulted. The intense passion in which Louisa painted crossed over to all areas in her life; she was a bright burning flame that went out at her prime and the peak of her career. Her marks are not only found on her canvases, but on the hearts of each of us that knew her. View a film of Louisa McElwain discussing her work.
Do not miss this curated collection of works being exhibited for the first time in Santa Fe.
About EVOKE Contemporary
EVOKE Contemporary is committed to promoting compelling and provocative contemporary artists of international acclaim. EVOKE Contemporary participates in Last Friday Openings + Artwalks in the Railyard Arts District each month year round.
EVOKE Contemporary is located at 550 S. Guadalupe St., Santa Fe, New Mexico 87501.
Telephone 505.995.9902. For more information, visit the EVOKE Contemporary website at http://www.evokecontemporary.com.
View a film of Louisa McElwain discussing her work.