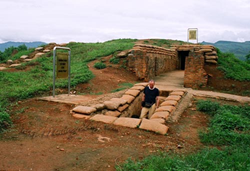 This tour to Dien Bien Phu will remind Vietnamese people and international friends of the glorious history of the nation
Hanoi, Vietnam (PRWEB) April 23, 2014
Smiletravelvietnam.com offers a tour package to Dien Bien Phu which is a well-known historic site in the Northwest of Vietnam on the occasion of the 60th anniversary of Dien Bien Phu Victory.
On May 7, 1954, the French-held garrison at Dien Bien Phu in Vietnam fell after a four-month siege led by Vietnamese nationalist Ho Chi Minh. The battle is internationally recognized as "the first time that a non-European colonial independence movement had evolved through all the stages from guerrilla bands to a conventionally organized and equipped army able to defeat a modern Western occupier in pitched battle".
"The spirit of Dien Bien Phu is still the same as the day 60 years ago. This tour to Dien Bien Phu will remind Vietnamese people and international friends of the glorious history of the nation."- said the Chief Executive of Smile Travel Vietnam.
The two-day trip will start in Dien Bien Phu city. The travelers will be picked up at the Muong Thanh airport and then transferred to hotel by car. On the same day, tourists will visit A1 hill and the Dien Bien Phu Victory Monument. They will also be able to see the headquarters of Vietnamese army (Viet Minh) which lies some 30km away. Finally, visitors will learn the answer to why the French lost there and ended their attempt to control Indochina.
On the following day, the holiday makers will be provided with a half day tour for sightseeing or trekking into villages of the ethnic minority Thai people and a boat trip in Pa Khoang lake. A lunch will be served before the passengers say goodbye to this destination and take a flight back to Hanoi.
For further details of the itinerary, please contact: sales(at)smiletravelvietnam(dot)com or call +84 976 127 023.
About Smile Travel Vietnam
The company was established in 2008. It focuses on 4 main fields: flight ticket, hotel booking, tours, and visas. Tourists can have visas on arrival for free if they order 3 other services from Smile Travel Vietnam Company.