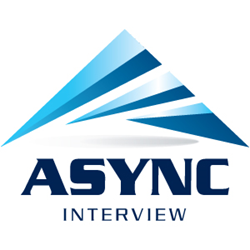 Philadelphia, PA (PRWEB) April 23, 2014
Async Interview, video interviewing provider, will be exhibiting at the 2014 ERE Recruiting Conference in San Diego, CA on April 23-24.
"This is our third year at the [ERE Recruiting] Conference and each year the topics improve and the attendees are looking to learn from peers and vendors," said Chris Young, Chief Executive Officer. "The topics and technologies continue to evolve and this is the conference to be at to learn about them. We're thrilled to be able to share the successful results our clients are experiencing with our technology."
Async Interview will be demonstrating its video interviewing technologies at Booth #822. HR professionals and recruiting leaders interested in video interviewing but unable to attend the two-day conference should visit http://www.asyncinterview.com for more information.
--------------
About Async Interview
Async Interview (http://www.asyncinterview.com) is a technology and service company meeting the needs of corporate and outsourced recruitment professionals through its video interviewing technology. Its suite of video interviewing tools are built to address a process bogged down in inefficiencies, rising costs and laborious procedures. Our cloud-based, real-time system gives recruiters, HR Professionals and hiring managers the ability to interview, evaluate, collaborate and hire the emerging workforce.
About the ERE Recruiting Conference
ERE Recruiting Conference & Expo is the premier conference for in-house recruiting leaders. Twice a year, hundreds of in-house recruiting leaders gather to network and share information pertinent to those who run a department, manage a team, control the budget & have responsibility for talent acquisition in your organization.