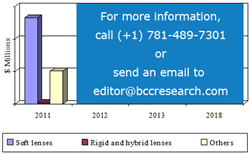 Global Market for Contact Lenses to Reach $20.1 Billion in 2018
Wellesley, Mass., (PRWEB) April 23, 2014
BCC Research (http://www.bccresearch.com) reveals in its new report, CONTACT LENSES: TECHNOLOGIES AND GLOBAL MARKETS, the global market for contact lenses is expected to grow to $20.1 billion by 2018, with a five-year compound annual growth rate (CAGR) of 1.2%. The soft-lens category, the largest and fastest growing segment overall, is growing at a 1.2% CAGR.
The contact lens market can be divided broadly between soft lenses, rigid permeable lenses and other lenses, including surgical, digital, and ocular drug delivery lenses. The Soft contact lens segment continues to dominate the marketplace and is expected to grow to nearly $14.4 billion by 2018.
The rigid and hybrid lens category has benefited from technological advancements and improvements in production, however, this segment is only expected to reach about $196 million by 2018, registering a CAGR of 1%.
"While broad research in the field of contact lenses has revealed that the market is rising with time in developed countries, markets in developing countries are also showing progressive growth," said BCC Research healthcare analyst Shalini Shahani Dewan. "An aging population, affordability, and increasing access to healthcare in this region are the major forces driving market."
CONTACT LENSES: TECHNOLOGIES AND GLOBAL MARKETS provides an overview of the global market for contact lenses, including soft, rigid, and hybrid lenses. It presents analyses of global market trends, with data from 2012 and 2013, and projections of CAGRs through 2018. The study includes an in-depth examination of changing dynamics and adoption trends affecting developing economies concerning market penetration in these areas, as well as a breakdown of the market and its products by purpose, usability, design, corrective nature, and other characteristics.
This report is intended for companies in the ophthalmology segment and those looking to enter the contact lens market.
Editors and reporters who wish to speak with the analyst, should contact Steven Cumming at steven.cumming(at)bccresearch(dot)com.
About BCC Research
BCC Research publishes market research reports that make organizations worldwide more profitable with intelligence that drives smart business decisions. These reports cover today's major industrial and technology sectors, including emerging markets. For more than 40 years we've helped customers identify new market opportunities with accurate and reliable data and insight. These include, but are not limited to, market sizing, forecasting, industry overviews, and identification of significant trends and key competitors. We partner with analysts who are experts in specific areas of industry and technology. Their up-to-date knowledge gives our customers unbiased measurements and assessments of these vital markets. Because our reports offer a global focus, our customers include the top companies in industries around the world as well as universities, major business schools, start-ups, consulting firms and investment companies. BCC Research is a unit of Eli Research LLC.
Data and analysis extracted from this press release must be accompanied by a statement identifying BCC Research LLC, 49-2 Walnut Park, Wellesley, MA 02481, Telephone: (+1) 781-489-7301; Email: editor(at)bccresearch(dot)com as the source and publisher. Thank you.