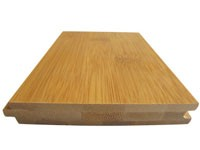 (PRWEB) April 23, 2014
BambooIndustry.com, a well-known solid bamboo flooring manufacturer, has recently released its bamboo veneer collection. Now, BambooIndustry.com is offering great discounts on all these new bamboo veneers and its solid bamboo flooring.
According to the sales manager of BambooIndustry.com, bamboo veneer is manufactured from bamboo blocks laminated with waterproof adhesive and kiln-dried bamboo strips. The bamboo blocks are first laminated, then conditioned and soaked for two weeks before being sliced into veneer sheets.
Bamboo veneer is ideal for any interior application like wall, ceiling, furniture covering, furniture, etc. Its grains can be horizontal or vertical; the colors can be natural or carbonized. The sales manager says the current promotion can help customers save much money when they buy bamboo products from a reliable supplier.
The sales manager has specially introduced strand woven bamboo veneer, which is a unique veneer type. He says, "This bamboo veneer is not regular bamboo veneer, like horizontal or vertical, but strand. We produce strand woven bamboo veneer in carbonized color and several other colors. The colors are not stained for surface, but deep inside of bamboo strips, from surface to inside."
About BambooIndustry.com
BambooIndustry.com is a website that belongs to BothBest Bamboo Flooring Co. Ltd., which is a professional supplier and exporter of bamboo products, and certified by both ISO9001:2008 and ISO14001:2004. The company has 8 years of experience in the manufacturing and wholesale of bamboo flooring products. It strives to bring its customers the latest styles and innovations of bamboo flooring, bamboo paneling, bamboo plywoods, bamboo furniture, and other bamboo products.
More information about the business and its bamboo flooring products can be found at http://www.bambooindustry.com/products/bamboo-panel/bamboo-veneer.html.