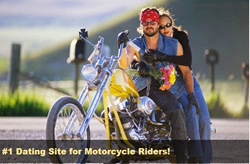 Los Angeles, California (PRWEB) April 28, 2014
Every once in a while we hear from the local news that bikers get injured when riding their motorcycles. This is often due to their incompetent knowledge of riding a motorcycle, or unawareness of the potential dangers. With hundreds of new members joining BikerKiss.com every day, especially when some of them are fresh riders, BikerKiss do feel the need to provide some guides on how to ride safely. To start it off, BikerKiss recently summed up some of the most common mistakes that riders make and posted on its website forum. Most BikerKiss members found this summary very useful.
1. No training, no license. The temptation of being on a motorcycle is huge, but do you want to become a juvenile delinquent or even doing some time in the slammer for being caught riding without a permit?
2. Too much power. It's much better to learn progressively and be fully confident on the right bike than fighting to stay on a bike that's way too much or too big for you to handle. The chances that new riders with powerful bikes get maimed or even die in horrific accidents are very high.
3. Riding with a passenger or in a large group before knowing how to ride well. This is another common mistake that rookies make. No matter how much you want to hang out with your friends on your bike, or even they beg you to take them as passengers, don't. When luck runs out, things go double wrong.
4. Not keeping a finger on the brake and clutch levers. This is important for all bikers, not just rookies. Your brain detects a hazard, assesses the situation and tells your body to function - there's a so-called reaction time. Keeping a finger on the brake and clutch levers reduces the overall reaction time.
5. Not learning how traffic works. Doctors say it's much easier to prevent than to cure, and this applies to riding, too. It's much better to stay on the safe side than being forced to find escape routes.
About BikerKiss:
BikerKiss.com, one of the SuccessfulMatch network, is world's first, largest and most effective biker dating site for biker singles who are looking to meet other biker friends. It is a best place for bikers and friends to get to know each other, establish relationship and talk about their interests, or to help each other.