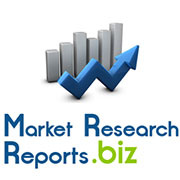 Global Paints And Coatings Market 2014
(PRWEB) April 23, 2014
Paints and coatings market is highly correlated with various end-user sectors like housing, construction, automotive, furniture, and packaging. The global market for paints and coating experienced a healthy growth in 2013 on account of rising construction projects, increase in housing starts, resuming consumer confidence and improvement in industrial production worldwide. While housing and construction markets in North America and Europe remained subdued over the years following the global financial crisis, activity has been strong in Asian markets like China and India. Further many new construction activities are expected to begin in Asia Pacific region that will boost the demand for paints and coatings.
Browse Full Report with TOC: http://www.marketresearchreports.biz/analysis-details/global-paints-and-coatings-market-report-2014-edition
The paints and coatings industry can be categorized into three markets:
architectural/decorative, industrial OEM and special purpose coatings. Architectural coating is the largest segment followed by industrial coatings and special purpose coatings. The industrial coatings segment was driven by rise in industrial production and automotive OEM sector. Geographically, Asia Pacific is the largest consumer of paints and coatings followed by Europe, North America and Latin America. Paint manufacturers are constantly introducing new and technologically advanced products in the market. Companies are focusing on zero VOC (volatile organic compounds) and green paints that are particularly in high demand among the customers. Rising prices of titanium dioxide was a major challenge for the industry in 2013.
Competition in coatings segment is based on formulating products for specific customer applications, meeting customer delivery requirements and providing technical assistance to the customer in product application, new technology offerings and prices. Akzonobel, PPG, Sherwin Williams, BASF and Valspar are the leading companies.
TO DOWNLOAD FULL REPORT WITH TOC: http://www.marketresearchreports.biz/sample/sample/195681
The present report offers a comprehensive analysis of the worldwide paints and coatings market with a special focus on the regional markets including Asia which includes India and China, the US, Latin America and Russia. All the three sub-segments namely architectural, industrial and special purpose coatings are explained in detail. In addition, competitive landscape in each segment like decorative, automotive OEM, industrial, protective and marine coatings along with the company profiles of the leading players in the market is discussed in detail.
By combining SPSS Inc.'s data integration and analysis capabilities with our relevant findings, we have predicted the future growth of the industry. We employed various significant variables that have an impact on this industry and created regression models with SPSS Base to determine the future direction of the industry. Before deploying the regression model, the relationship between several independent or predictor variables and the dependent variable was analyzed using standard SPSS output, including charts, tables and tests.
Table of Content
1. Introduction
1.1 Types of Coatings
1.2 Procedures of Paint Makers
1.3 Applications of Paints
2. Global Paints and Coatings Market
2.1 Market Size by Value & Volume
2.2 Market Segmentation
2.3 End-Use Sectors
2.4 Per Capita Consumption
2.5 Geographical Segmentation
Visit Analysis Report: http://www.marketresearchreports.biz/analysis/195681
3. Market Segments
3.1 Architectural/Decorative Coatings
3.1.1 Market Size
3.1.2 End-Markets
3.1.3 Geographical Segmentation
3.2 Industrial OEM Coatings
3.2.1 Market Size
3.2.2 End-Use Sectors
3.2.3 Geographical Segmentation
3.2.4 Automotive OEM Coatings
3.2.5 Metal Packaging & Powder Coatings
3.3 Special Purpose Coatings
3.3.1 Market Size
3.3.2 End-Use Sectors
3.3.3 Geographical Segmentation
3.3.4 Protective & Marine Coatings
3.3.5 Automotive and Aerospace Coatings
4. Regional Analysis – Paints & Coatings
4.1 The US
Market Value & Volume
Market Segmentation
Architectural Coatings Volume Demand
Architectural Coatings – End Markets
Distribution Channels
Latest Reports:
Future Of The French Defense Industry - Market Attractiveness, Competitive Landscape And Forecasts To 2019
Inquire Before buying the Report @ http://www.marketresearchreports.biz/analysis/195635
The Future of the French Defense Industry - Market Attractiveness, Competitive Landscape and Forecasts to 2019 published by Strategic Defence Intelligence, provides readers with a detailed analysis of both historic and forecast French defense industry values, factors influencing demand, the challenges faced by industry participants, analysis of industry leading companies and key news.
Key Findings
The French defense industry is expected to experience growth at a CAGR of 0.70% during 2015-2019.
The French defense expenditure valued US$57.5 billion in 2014, and grew at a CAGR of 0.32% between 2010 and 2014.
The French MoD allocated an average of 38.68% of capital expenditure during the review period, which is expected to increase marginally over the forecast period.
To Download Full Report With Toc @ http://www.marketresearchreports.biz/sample/sample/195635
In particular, it provides an in-depth analysis of the following:
French defense industry market size and drivers: detailed analysis of the French defense industry during 2015-2019, including highlights of the demand drivers and growth stimulators for the industry. It also provides a snapshot of the spending patterns and modernization patterns of the country
Budget allocation and key challenges: insights into procurement schedules formulated within the country and a breakdown of the defense budget with respect to the army, navy, and air force. It also details the key challenges faced by the defense market participants within the country
CIGS Photovoltaics Markets-2014 And Beyond
Inquire Before buying the Report @ http://www.marketresearchreports.biz/analysis/195642
The industry shake-out in CIGS PV has been brutal. In 2010 there were more than 25 companies with plans for over 1 GW of capacity, but to date only Solar Frontier has achieved the goal. As the shake-out continued, there were even questions whether any new capacity would be added beyond the approximately 3 GW that was in place as the CIGS sector faced extreme price pressure from falling silicon based PV. Nonetheless, NanoMarkets believes that while multiple start-ups have either been liquidated or acquired, the remaining few large CIGS players are poised to add significant capacity.
This report will analyse the opportunities that are emerging for CIGS in this very new phase of the solar industry. The report takes a detailed look into the technical evolution of CIGs fabrication and encapsulation and show how this will impact CIGS market expansion and cost reduction. Much of the report is devoted to the opportunities for CIGS in building-integrated PV (BIPV market) and how CIGS flexible modules and price parity with silicon solar panels could considerably improve the revenues generated by CIGS technology in the near future. This report also includes NanoMarkets' eight-year forecasts of the market for CIGS PV.
To Download Full Report With Toc @ http://www.marketresearchreports.biz/sample/sample/195642
These forecasts are broken down by type of application-BIPV, flexible devices, etc..-and by the manufacturing technology used, including deposition technology and flexible vs. rigid manufacturing. This report is essential reading for firms that manufacture or develop CIGS PV and for everyone interested in future of the PV industry. NanoMarkets has been following the CIGS space since its earliest days and this report provides the latest and most up to date information on the current state of the CIGS and guidance with regard to its future development and growth.
About Us
Marketresearchreports.biz is the most comprehensive collection of market research reports. Marketresearchreports.biz services are especially designed to save time and money of our clients. We are a one stop solution for all your research needs, our main offerings are syndicated research reports, custom research, subscription access and consulting services. We serve all sizes and types of companies spanning across various industries.
Contact
M/s Sheela
90 Sate Street, Suite 700
Albany, NY 12207
Tel: +1-518-618-1030
USA - Canada Toll Free: +1-866-997-4948
Email: sales(at)marketresearchreports(dot)biz
Site: http://www.marketresearchreports.biz/
Blog: http://aabudholiya02.blogspot.com/