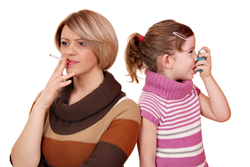 Second hand smoke and foetal exposure due to maternal smoking while pregnant significantly increase the risk of invasive meningococcal disease.
(PRWEB UK) 25 April 2014
Smoking is one of the leading global causes of preventable deaths, triggering the development of numerous types of cancer, particularly in the throat, lungs and mouth, cardiovascular disease, and respiratory disease. Initially, smokers or those living with smokers, may only develop mild, short-term health issues such as persistent coughing, throat irritation, heartburn or signs of asthma or allergy. But over time these conditions can easily develop into more serious health problems both in the lungs such as bronchitis and emphysema, and in the heart such as high blood pressure, narrowing or thickening of the blood vessels and clots which lead to stroke.
These health problems are not just affecting the adults who smoke, but are also causing similar developments in many of the children who are exposed to smoke in the air or even in the walls or from clothing of smokers around them or living in the same household. Second-hand smoke is what the smoke exhaled by a smoker is called along with the smoke that comes from the tip of burning cigarettes, pipes, and cigars. This smoke contains about 4,000 chemicals out of which at least 50 of them are known to cause cancer, and most of the rest are known to be highly dangerous. Anyone exposed to second-hand smoke are also exposed to these chemicals and will suffer the same health risks as the smoker.
The dangers of exposure to passive smoking on children continue to become ever more apparent. A study carried out by researchers from the University of Tasmania in Australia and the Universities of Turku and Tampere in Finland, along with other Australian and Finnish institutions and published in the March edition of the European Heart Journal http://bit.ly/1cxvK9r found evidence that exposure to second-hand smoke damages children's arteries. The study involved 2,401 Finnish children, from ages 3-18 years and 1,375 Australian children from 9-15 years of age, all of whom lived with one or more smokers in the household, to evaluate their overall health with a follow-up examination of up to 25 years later. The results showed an overall thickening of blood vessel walls that started in their primary years and increased the risk of heart attacks and strokes in later life. http://bit.ly/1jyBGfg The Finnish study also analysed the association between cumulative exposure to parental smoking for 3 years and carotid IMT in adulthood.
Another study by The Children's Hospital at Westmead and The University of Sydney, Australia shows that second hand smoke and foetal exposure due to maternal smoking while pregnant significantly increase the risk of invasive meningococcal disease. http://bit.ly/QwIG5e Mothers who are exposed to tobacco smoke may have their babies too soon. Babies born too soon don't weigh enough to thrive and may not be able to breathe on their own. Research has shown that smoking during pregnancy causes health problems for both mothers and babies and in a study published online in the European Heart Journal, http://bit.ly/1idXzoV evidence showed that by the age of eight years, children born to mothers who smoked while they were pregnant had HDL cholesterol levels of about 1.3 millimoles per litre (mmol/L), compared to the more normal level of 1.5 mmol/L in children born to mothers who had not smoked. The researchers found that this effect was independent of whether the children had been exposed to other people's smoke after birth, suggesting that prenatal exposure had the most impact on the children's subsequent development. http://bit.ly/1fnvh5q
Children are affected by not only second-hand smoke, but in households with one or more smokers, the residue of smoke remains in any fabrics, furniture and even the walls and floors, causing third-hand smoke risks that is harmful for health and development. Exposure to second or third-hand smoke can cause low birth weight, Sudden Infant Death Syndrome (SIDS), asthma, bronchitis, pneumonia, middle ear infection, and other diseases in both infants and older children. Chemist Direct continues to promote minimising these risks for all children by finding alternative means of reducing the smoke pollution at home and other environments or by quitting altogether.