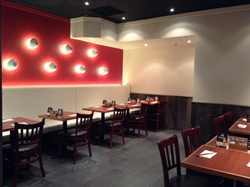 Add a The Premium Vertical Slat Wood Chairs are very popular chairs with restaurant owners throughout North America
Toronto, Canada (PRWEB) April 23, 2014
Canada's leading restaurant furniture manufacturer and distributor, Restaurant Furniture Canada recently helped Ramen Raijin in Toronto enhance the interior décor of their restaurant with new chairs.
Ramen Raijin is a ramen restaurant in Toronto, Canada near the Eaton Center. The restaurant is owned by the same owner who is known for his Vancouver ramen emporiums Kintaro and Motomachi Shokudo. Named after the Japanese god of thunder, Raijin occupies the 3,500-square-foot former Creasians space on Gerrard Street just east of Yonge. Designed by the same team that outfitted Motomachi, Raijin's decor blends Japanese and Western styles with warm woods, cool slate tiles, bright splashes of painted accents and ample lighting (as well, a six-foot statue of Raijin is at present on its way from Japan). Their location attracts many shoppers and students from nearby Ryerson. The dining room is tastefully decorated with authentic Japanese art. The interior is spacious makes good use of natural light.
The restaurant's raison d'être is found in the back stock-boiling kitchen, which prepares up to 300 liters of salty, fatty broth every day. Raijin offers Tokyo-style ramen ($9.50–$10) made from creamy tonkotsu (pork bone) broth, as well as the rarer toridashi (clear chicken) broth, in shoyu (soy sauce), shio (salt) or miso flavors. They also serve beer and wine.
The owner of Ramen Raijin recently decided to upgrade the seating. "The owner contacted Restaurant Furniture Canada for new chairs because of their reputation for high quality at competitive prices," salesperson Chris explained. "He decided to go with Restaurant Furniture Canada's Premium Vertical Slat Wood Chairs in mahogany finish and padded black vinyl seats. Customers can choose between a solid wood seat or an American made padded seat upholstered in vinyl or fabric. The seats can be custom upholstered in any material for an additional cost."
Restaurant Furniture Canada's Premium Vertical Slat Wood Chair is currently sells for $95. A matching bar stool is also available for $106. Customers can choose from 6 different finishes or have a custom finish made for an additional charge. Like many of Restaurant Furniture Canada's wood furniture, the Premium Vertical Slat Wood Chairs and Bar Stools are made in the USA from wood responsibly harvested in the Midwest.
"The Premium Vertical Slat Wood Chairs were just what the owner of Ramen Raijin was looking for," Chris said. "The Premium Vertical Slat Wood Chairs are very popular chairs with restaurant owners throughout North America. They are comfortable and functional, with the long-lasting durability and are reputed for their fine craftsmanship."
To browse Restaurant Furniture Canada's full selection of chairs, bar stools, table tops, table bases, booths and patio furniture visit http://www.restaurant-furniture.ca/ or talk to a customer service representative at (888) 998-4222 for answers to all your questions on restaurant furniture.
Ramen Raijin is located at 3 Gerrard St. E. in Toronto, Canada. They can be contacted at: (647) 748-1500.