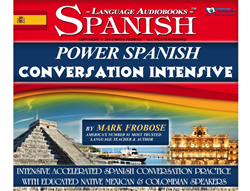 Learn languages on a smartphone. Mark Frobose
Champaign, IL (PRWEB) April 24, 2014
The results of an internal study conducted by Language Audiobooks Inc. are in.
The conclusions?
Mark Frobose, CEO of LanguageAudiobooks.com says that this study's results indicated that "language learners might want to wait until they have practiced languages on their smartphones before enrolling in a traditional language class this summer."
Why this advice?
According to Frobose, who began his long journey to fluency in six different languages over a quarter century ago, languages appear to be best learned with individual audio practice first.
"According to our informal study," states Mark, "languages as they are taught in most traditional classrooms in the U.S. don't generally lead to conversational ability in a language."
From a purely personal perspective, Mark should know. He wasn't even allowed to take French while in Middle School because his Algebra scores were too low. And when he finally did take a French class, the future author of Power French Accelerated discovered that his French teacher didn't even speak fluent French.
What's the solution?
"Our opinion is that the fastest, easiest, and cheapest way to really begin to speak a new language is by downloading a quality language program to a smartphone," advises Frobose, who is the bestselling author of Power Spanish, Power French, and Power Italian.
And what is the definition of a quality language program?
"Make sure that the language audiobook includes trained native speakers of the language being learned, as well as instant English equivalents to that helps one understand while learning," emphasizes Mark.
Language Audiobooks Inc. specializes in downloadable digital language programs and CD programs like the bestselling Power Spanish Accelerated which are extremely fast and easy to learn and that are immediately accessible to any smart phone or computer. The Language Audiobooks' motto is "Learn Languages Everywhere™".
The company's founder and CEO Mark Frobose is an expert language teacher who created the entire language audio line for Macmillan Audio of New York including the bestselling "Behind the Wheel French" program. For over a quarter of a century, Mark has created and produced more successful audio language programs than any other living individual in the world today. His bestselling Power Spanish Accelerated is rapidly becoming the nation's favorite all-time Spanish program.
Language Audiobooks' popular Power Spanish, Power French, and Power Italian, Bite-Sized Mandarin, Conversational Latin-American Spanish, Clean French Slang and other innovative language programs are available for download now at Audible.com or in CD format at Amazon.com.