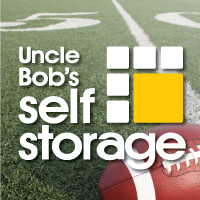 Charlotte, NC (PRWEB) April 24, 2014
Carolina Panthers linebacker and AP Defensive Player of the Year Luke Kuechly will sign autographs and greet fans at a "Kick Off the Draft" event hosted by Uncle Bob's Self Storage. Kuechly will appear at the Uncle Bob's storage facility located at 7209 Wallace Lane in Charlotte, NC 28212 on Saturday May 3rd from 1:30-3:00 pm local time.
Kuechly's visit comes one week before the NFL draft, so fans will get a chance to meet a player familiar with the draft process. Kuechly, drafted 9th overall in 2012, fully understands the emotional peaks and valleys of draft day.
"The draft process can be a stressful time, but once you hear your name called it's a dream come true. I wish the incoming draft class the best of luck," Kuechly said.
In addition to Kuechly's appearance, the event will feature other football-themed attractions. Kids can test their future Draft Combine skills on an inflatable football toss and 30 foot obstacle course. Like any good football gathering, pizza will be on hand courtesy of Papa John's, plus other refreshments. Fans can also win prizes at a game tent sponsored by Charlotte pop radio station Kiss 95.1.
"Luke is not only an elite athlete, but also an exemplary member of the community," said Ron Kuhn, area manager for Uncle Bob's Charlotte storage facilities. "We are thrilled he's coming by our store and we know the fans will enjoy everything the event has to offer. We're looking forward to a fun day with our Charlotte friends and family."
Kuechly will sign provided photographs from 1:30-3:00pm, no memorabilia will be permitted.
For more information visit UncleBobs.com/luke.
About Luke Kuechly
Luke Kuechly is a Pro Bowl linebacker for the NFL's Carolina Panthers and current AP Defensive Player of the year. In 2012, Kuechly was named Defensive Rookie of the year. While attending Boston College, Kuechly was awarded the Lott IMPACT Trophy for athletic achievements and community engagement. Kuechly is also the spokesperson for Project Life, an organization dedicated to registering college students for bone marrow donations. For more information, visit Project Life online: projectlifemovement.org.
About Uncle Bob's Self Storage
Uncle Bob's Self Storage® is owned by Sovran Self Storage, Inc., (NYSE:SSS) a real estate investment trust (REIT) that acquires and manages self storage facilities. Uncle Bob's is one of the largest self storage companies in the United States with more than 475 storage locations spread across 25 states. Uncle Bob's currently has nine self storage locations in the Charlotte area.