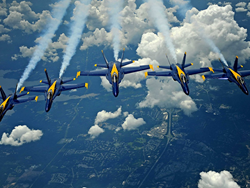 Vero Beach Florida Festivals and Events
Vero Beach, Florida (PRWEB) April 25, 2014
Real Estate Scorecard states some of the best places to live in Florida are nestled along the east coast. Indian River County is home to many beach and golf communities such as the Grand Harbor Golf & Beach Club, The Moorings and Sea Oaks. Aside from the native beauty and exciting lifestyles the county has to offer, one city stands out in particular as a top retirement city in Florida and it's the seaside town of Vero Beach. Folks who live in Vero Beach are in for a real treat this year as the Blue Angels are coming to town on May 10-11, 2014.
The United States Navy is proud to present, The Blue Angels, a demonstration brigade set to fly high for the first time at the Vero Beach Municipal Airport. Formed in 1946, a squadron team of six pilots began an aerobatic legacy that has lived on for more than 70 years! The Blue Angels as of today are the second oldest flying team to perform more than 70 times a year in 34 different locations across the U.S. The F/A-18 Hornet, engineered by McDonnell Douglass/ Northrop and now Boeing, is a jet designed for air-craft carrying war ships to carry out tactical missions from land, air or sea with a precision that has fascinated Americans for decades. The F/A-18 Hornet will showcase its supersonic speed via two General Electric F404 turbofan engines, giving the aircraft a high thrust-to weight ratio resulting in corkscrew dives, double barrel rolls and more tricks that will impress the whole family.
Here's what Real Estate Scorecard was informed to expect at the Vero Beach Air Show, just five minutes from the Grand Harbor Golf & Beach Club:
Fat Albert C-130 Hercules is a U.S. Marine Corps C- 130; not only does Fat Albert support the team's operations but this beast of a jet has a solo performance ironically expressing exceptional movement that will knock attendees socks off!
Shockwave Jet Truck driven by Chris Darnell; this behemoth holds the Guinness world record for the fastest jet truck in the world with top speeds of 376 mph, packing 36,000 horsepower and complemented by three afterburning J34-48 jet engines.
Patty Wagstaff is the first woman to win the title of U.S. National Aerobatic Champion, winning gold, silver and bronze medals in Olympic - level international aerobatic competitions. Her graceful performances are aggressive and unlimited, folks don't want to miss this aerodynamic powerhouse perform in style!
Skip Stewart & Prometheus: The flying machine Prometheus has a climb rate of 4000 feet per minute, maximum speed of 197 mph, stall speed of 58 mph, empty weight of 1,146 pounds, and a range of 405 miles. Skip is known for turning powerful take-offs into slow knife-edge passes and toying with extreme positive and negative g-force maneuvers really encapsulating the aircraft's full capabilities.
Rob Holland began his competition flying career in 2002 and worked hard to move up in the ranks. Rob has won the last three U.S. National Unlimited Aerobatic Championships and the Gold Freestyle Medal at the last World Aerobatic Championships.
Quick Silver P-51D Mustang flown by Scott "Scooter" Yoak the "The Resurrected Veteran" represents all the man and woman who gave and continue to give the ultimate sacrifice to our country everyday. This Quick Silver originally designed by Bill Yoak from more than 200 Mustang parts is a must see!
Dave Folk F4U-5N Chance-Vought Corsair is a nightfighter that served with twenty-one other Corsairs to combat in the ground attack role in 1969 against El Salvador in the Honduran Air Force — featuring a restored configuration with inverted gull wings, a large propeller with the indistinguishable sound of its 18-cylinder Pratt and Whitney R 2800 Double Wasp radial engine.
Lucas Oil Skydivers' mesmerizing stunts performed by lead jumper, Nick Halseth, who works as freefall videographer, skydiving instructors Luke Evans and Ryan Albrecht, medical service engineer Andy Junghans, and mechanical engineer-inventor-author Jim Skakoon. Dont miss these daredevils!
Julie Clark & Team Juice Plus+ T-34 has logged 31,000 accident-free hours in the air. Julie has earned adoring fans through her 31 years as a solo artist contributing to Vero Beach being one of the best places to live in Florida. Watch Julie paint smoke trailing loops in the colors of our patriotic flag adding flare to Vero Beach events and festivals.
Teresa Stokes & Gene Soucy: These one of a kind performers have done it all! Headstands in the sky and wing walking that will have attendees speechless.
Set along the Indian River and Atlantic Ocean, Vero Beach is known for excellent fishing lagoons bordering The Moorings, world class surfing at the Sebastian Inlet, all types of saltwater and freshwater boating, and gorgeous unspoiled sandy beaches along the shores of the Sea Oaks Beach and Tennis Club.
About Real Estate Scorecard:
Real Estate Scorecard writes unbiased real estate reviews providing in-depth information about popular gated communities in Florida, Georgia, North Carolina, South Carolina and Tennessee, all in an effort to help people discover where to retire in the Southeast.
Website: http://realestatescorecard.com