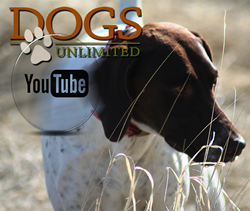 You'll be amazed at the payoffs in keeping your dog steady when they become mature hunting dogs.
Hudson, CO (PRWEB) April 24, 2014
The folks at Dogs Unlimited have been training their own pointing dogs for decades and they have come up with 5 ways of keeping your hunting dog, pointer that is, steady to wing and shot.
1. Gun dog training knowledge. If you are new to gun dog training Alan O Davison, owner of Dogs Unlimited, highly suggests taking a hunting dog training seminar from a reputable hunting dog trainer like Rick or Ronnie Smith of HuntSmith, Jon Hann of Perfection Kennels or Ben Garcia of Hideaway Kennels. Their ability to pass along years of knowledge is invaluable and starting a dog with a solid foundation of knowledge will help guarantee success in the future.
2. Training Consistency. Consistency in your training program is a must. As Davison says, "If you have attained the knowledge on how to train your gun dog the next best thing you can do is to do that training consistently. Develop a training program and stick to it especially in your dog's younger, more formative years. You'll be amazed at the payoffs in keeping your dog steady when they become mature hunting dogs."
3. Mix Things Up. What you experience under actual hunting conditions is never the same so try mixing up your training sessions to give your dog a new look. Don't always use a single bird, try multiple bird flushes to keep your dog excited but steady at the same time. Don't always use the same objectives when training and if at all possible try to train on different grounds. Dogs react differently to different locations and mixing it up will help immeasurably.
4. Change Training Birds. Most folks who train gun dogs will use homing pigeons because they are inexpensive and a renewable resource but if you want to keep your dog excited and steady in the field they need to be exposed to the game birds they will be hunting. As Davison says, "Before the hunting season we'll start using quail or pheasants in our training. Our dogs steady up nicely and we see a transition when the season starts. Nothing like the addition of real game birds to help us have a successful hunting season."
5. Train on Wild Birds. This is the ultimate when it comes to hunting dog training and keeping them steady. If you're fortunate enough to live or can travel to an area that has wild birds available, train on them during the late summer and early fall. Your pointing dogs will become incredibly familiar with them and when the season starts the only thing that changes is you and the shotgun your carrying.
So, if your looking for a better, steadier pointing dog consider the above to help you and your gun dog have a more successful and gratifying upcoming bird hunting season.