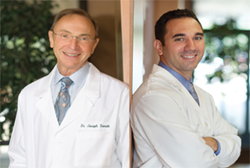 Generally, patients experience a fast recovery and possible tooth loss may be avoided.
Detroit, MI (PRWEB) April 25, 2014
Gingival recession is a common yet serious condition in which the gums pull back from the normal, healthy gumline. Gum recession can cause tooth decay and sensitivity, bone loss, increased tooth mobility, and possible tooth loss. Additionally, the appearance of the smile is often compromised as unsightly root structure becomes exposed.
Traditional treatment for gum recession usually involves connective tissue graft or allograft procedures. The Pinhole Surgical Technique offers patients another option for treating their recession usually without cutting, stitching, and the downtime associates with the other grafting procedures.
The Pinhole Surgical Technique, also referred to as Chao Pinhole Gum Rejuvenation was invented and patented by Dr. John Chao after years of development and trials. It is designed to be a scalpel-free, suture-free procedure for correcting gum recession. The procedure calls for a small pinhole to be made in the gum tissue and a series of specially designed instruments to gently loosen and glide the gum tissue over the area of recession. This technique can treat many teeth at one time and can offer the patient immediate pleasing, long-lasting results.
This breakthrough technique is a sophisticated way to move receding gums back into place and offers the patient several benefits. Often times there is less discomfort for the patient after treatment than with traditional treatment and there is minimal downtime. Without the need for scalpels, sutures, or donor tissue, the Pinhole Surgical Technique is an attractive treatment option for fearful patients. In many cases, choosing to treat gingival recession could be the difference between possible tooth loss and continuing discomfort or tooth retention, comfort, and improved appearance.
Traditional treatment for gum recession includes connective tissue graft (CTG) and allograft procedures. Connective tissue graft is currently the most common and predictable treatment for gingival recession. This procedure takes tissue from the palate and uses it to cover the area of recession.
Allograft procedures are also popular procedures for treating recession and involve using allograft material or freeze-dried donor tissue to cover the areas of recession. While both of these treatments tend to be very successful, the number of teeth that can be treated using these procedures is sometimes limited due to the fact that they usually require cutting and suturing.
Dr. Joseph Nemeth of Metro Detroit is the first periodontist in Michigan to have completed the training and be certified to use the Dr. John Chao Pinhole Surgical Technique. Dr. Nemeth has always been a leader in seeking out the latest technology for the benefit of his patients. He strives to be on the leading edge of technology and advanced periodontal surgical techniques. Above all, he is dedicated to helping his patients achieve the best periodontal health possible.
For more information on Dr. Joseph Nemeth or the Pinhole Surgical technique, please visit http://www.drnemeth.com or call 248-357-3100. Dr. Nemeth is always accepting new patients.