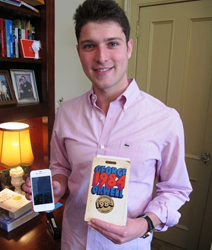 I used to view my learning disability as the bane of my existence. But now I define it as a learning difference and don't let it define me....
Washington, DC (PRWEB) April 24, 2014
Learning Ally, a national nonprofit serving individuals across the U.S. with visual, physical and learning disabilities, will honor seven remarkable students on April 26th at its 54th annual National Achievement Awards celebration in the nation's capital.
Three high achievers are blind or visually impaired and four have learning disabilities like dyslexia. All are being recognized for scholastic excellence, exemplary leadership and service to others; and they have thrived in education with the help of accessible educational content and assistive technology that Learning Ally provides.
The following six winners will receive cash awards of $6,000 and travel with their families to Washington, DC, where they will attend the NAA Gala at the Smithsonian American Art Museum's National Portrait Gallery on Saturday, April 26th.

Dustin Henderson — Diagnosed with severe dyslexia as an elementary school student, Henderson struggled well below grade level in reading and writing -- even as he shined in math and science. Refusing to be defined by his disability, he went on to graduate as valedictorian of his high school and at age 19 is finishing a successful freshman year at Oregon Institute of Technology.
Greg Aikens — Despite being totally blinded by glaucoma by the time he was in middle school, 30-year old Aikens has blossomed in every phase of education, obtaining two master's degrees in education and divinity. After completing an internship supporting people with disabilities in Central Asia, he is now a highly regarded teacher of blind and visually impaired children in Smyrna, Georgia.
Edward Maza — From an early age, Maza's struggles with dyslexia made him feel damaged, isolated and "different" from his peers. Over the years he has transformed his disability into an asset – thriving in high school, launching an acclaimed teen community initiative at home in Englewood, New Jersey, spending a year studying in Jerusalem, and now at age 19 is preparing to start his freshman year at Yale University.
Patricia Halterman — After starting her family and launching a successful retail management career, Halterman faced a life crisis when she became visually impaired in her late 30s. She immersed herself in rehabilitative training, returned to college and now, at age 59, supports and inspires others with vision loss at UC Berkeley's Low Vision Center.
Maia Schumacher — Overwhelmed by severe dyslexia at a young age, Schumacher needed countless hours and the help of readers to complete her school assignments. With effective support and accommodations, she built up her confidence and discovered a newfound sense of independence – and is now excelling at age 19 as a nursing major at Seattle University.
Susan Vanino — With courage and determination, Vanino has navigated major obstacles imposed by macular degeneration throughout her adult life. Now at age 58 and on the verge of completing her Master of Social Work from NYU, she has reinvented herself as an active role model for individuals with a wide range of disabilities in her home state of New Jersey.
Learning Ally also announced that 18-year old Nicole Stark, of Odenton, Maryland, will receive the William L. Ritchie Learning Through Listening Award, presented annually to an outstanding high school senior with learning disabilities in the Washington, DC metropolitan area. For years after she was diagnosed with dyslexia in elementary school, Stark was dependent on her mother (who is dyslexic herself) for nightly reading help. She has overcome her disability to become a star student at Indian Creek High School, and plans to enter college in the fall to study Mechanical Engineering.
About the National Achievement Awards (NAA)
Each year, Learning Ally honors three students in each of two categories of its National Achievement Awards. Blind or visually impaired college seniors and grad students are presented with the privately endowed Mary P. Oenslager Scholastic Achievement Awards (SAA). High school seniors with learning disabilities such as dyslexia are honored with the privately endowed Marion Huber Learning Through Listening® (LTL) Awards. Hundreds of students apply for these prestigious awards each year and are evaluated by committees of Learning Ally volunteers, board members, parents, educators, donors and staff. Each award winner has a long list of honors and accomplishments, and has graduated with a GPA above 3.0, with most near the 4.0 mark. The top three winners in each category are honored with a trip to Washington, DC with their families, and a $6,000 cash award to support their education. Learn more about Learning Ally's NAA events and winners at https://naa.learningally.org/.
About Learning Ally
Founded in 1948, Learning Ally has helped millions of K-12, college and graduate students, veterans and lifelong learners – all of whom read and learn differently due to blindness, visual impairment, dyslexia, or other learning disabilities. Through its support programs and audiobooks, Learning Ally enables families and teachers to help students thrive and succeed. The organization provides support to parents and students through events, webinars, personal consultations and other tools; and integrated learning management systems and professional development for teachers. In addition, Learning Ally's collection of more than 80,000 human-narrated audio textbooks and literature titles can be downloaded on mainstream smartphones and tablets, and is the largest of its kind in the world. Several thousand volunteers help to produce the educational materials, which students rely on to achieve academic and professional success. As a 501(c)3 nonprofit, Learning Ally is partially funded by grants from state and local education programs, and the generous contributions of individuals, foundations and corporations. For more information, visit http://LearningAlly.org.