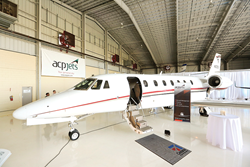 "IPC is one of the most recognizable polo clubs in the world, and we are honored to partner with them," said Kathleen Searle, Textron SVP Marketing.
Wellington, FL (PRWEB) April 24, 2014
On April 10, Textron Inc. celebrated its sponsorship of high-goal polo at the prestigious International Polo Club (IPC) with the exclusive "Planes and Polo" event to benefit the Polo Training Foundation (PTF). Polo patrons and renowned polo players celebrated the partnership in style, mingling among millions of dollars' worth of luxury aircraft inside ACP Jet's Hangar G.
Textron is a global, multi-industry company known for its powerful brands: Beechcraft, Bell Helicopter, Cessna, E-Z-GO, Jacobsen, and more. Being a corporation known for high-quality, high-performance products, Textron is the perfect sponsorship match. The most elite polo players from around the globe compete at IPC, playing in America's Triple Crown of polo tournaments: the USPA C.V. Whitney Cup, the Piaget Gold Cup, and the Maserati U.S. Open Polo Championship®. These players epitomize the attributes of Textron's brands.
"It's a strategic partnership built on the foundation of shared values of performance and passion inherent in Textron's business units," said John Wash, president of the International Polo Club. "We are proud to have Cessna as IPC's official jet and Bell Helicopter as our official helicopter. In addition, we embrace E-Z-G0 as IPC's official golf car and utility vehicle. With nine polo fields, we welcome Jacobsen as our official turf equipment company."
Guests enjoyed champagne and hors d'oeuvres while viewing Cessna's Sovereign+ and Citation Latitude business jets. The brand-new Bell 505 Jet Ranger X helicopter was also featured at the event.
"IPC is one of the most recognizable polo clubs in the world, and we are honored to partner with them," said Kathleen Searle, Textron SVP Marketing. "We know there are many polo enthusiasts around the world who are Bell Helicopter and Cessna customers, and we look forward to introducing all of Textron's brands to the entire polo community," added Searle.
A shiny, new E-Z-GO golf car was auctioned off at the event, with the proceeds going to the Polo Training Foundation in Wellington. The PTF is a charitable foundation that supports polo training at all levels by providing funds for the development of current and future generations of players and umpires.
The sponsorship aligns IPC with Textron in a partnership that personifies the best of both brands. Textron has premier signage for all of its dynamic brands throughout the entire 2014 winter polo season, along with luxurious hospitality and exclusive box seating. It is the perfect fit as two prestigious brands unite.
About Textron
Textron is a multi-industry company that leverages its global network of aircraft, defense, industrial, and finance businesses to provide customers with innovative solutions and services. Textron is known around the world for its powerful brands such as Bell Helicopter, Cessna, Beechcraft, Hawker, Jacobsen, Kautex, Lycoming, E-Z-GO, Greenlee, and Textron Systems. More information is available at textron.com.
About Textron Aviation
The Textron Aviation segment is the leading general aviation authority and home to the iconic Beechcraft, Cessna, and Hawker brands, which account for more than half of all general aviation aircraft flying. Textron Aviation includes the businesses of Cessna Aircraft Company and Beechcraft Corporation, bringing together decades of unmatched experience in designing, building, and supporting aircraft. It provides the most versatile and comprehensive general aviation product portfolio in the world through five principle lines of business: business jets, general aviation and special mission turboprop aircraft, high-performance piston aircraft, military trainer and defense aircraft, and a complete global customer service organization. Its broad range of products include such best-selling aircraft as Citation and Hawker business jets, King Air and Caravan turboprops, and T-6 military trainer aircraft, all of which are backed by the industry's largest global service network. For more information, visit textronaviation.com.
About Bell Helicopter
Bell Helicopter, a wholly owned subsidiary of Textron Inc., is an industry-leading producer of commercial and military, manned, and unmanned vertical-lift aircraft, and the pioneer of the revolutionary tiltrotor aircraft. Globally recognized for world-class customer service, innovation, and superior quality, Bell's global workforce serves customers flying Bell aircraft in more than 120 countries. For more information, visit bellhelicopter.com.
About E-Z-GO
E-Z-GO, a Textron Inc. company, is a leading global manufacturer of golf cars, utility, and personal transportation vehicles. Products sold under the E-Z-GO brand include RXV and TXT fleet golf cars, Freedom® RXV and Freedom TXT personal golf cars, E-Z-GO Terrain™ and Express™ personal utility vehicles, and the 2Five® street-legal, low-speed vehicle. E-Z-GO also produces the Cushman line of heavy-duty material carriers and utility vehicles, and the Bad Boy Buggies® line of off-road utility vehicles for hunters and outdoor enthusiasts. Founded in 1954 in Augusta, Ga., E-Z-GO became part of Textron Inc. in 1960. Visit ezgo.com for more information.
About Jacobsen
With over 90 years of experience in the turf maintenance industry, Jacobsen, a Textron Inc. Company, has built a legacy of precision craftsmanship, legendary quality of cut, and unmatched expertise. Dedicated solely to delivering perfectly groomed turf, Jacobsen equipment is used on some of the finest formal turf areas across the United States and the world through an extensive distribution network and the international Ransomes brand. Additional information about the company can be found at jacobsen.com.
About International Polo Club Palm Beach
The International Polo Club Palm Beach is the premier polo destination in the world, hosting the largest field of high-goal teams and the most prestigious polo tournaments in the United States. Polo enthusiasts descend upon Wellington, Fla., each winter season to enjoy their love of the sport in the most prominent and well-equipped polo facility. High-goal polo action takes place every Sunday through April 20 at the International Polo Club. Tickets for Sunday polo range from $10 general admission to $120 for box seating. Tickets for the lavish Sunday brunch at The Pavilion for the Maserati 110th U.S. Open Polo Championship start at $120, upward to $330 for the Veuve Clicquot package for two. Tickets can be purchased online at InternationalPoloClub.com or by calling 561.204.5687.