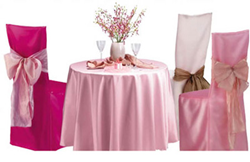 New York, NY (PRWEB) April 25, 2014
Table Cloth Factory is a retailer of table cloths and table accessories at prices that can't be found in any big box retailer. Their online ordering process is easy, making it convenient for anyone to order from anywhere. By placing their focus on quality products offered at affordable prices, they have helped their customers create beautiful, professional table displays without exceeding the event's budget limitations.
Recently, the company noticed that consumers were having difficulty finding linen tablecloths and decorative tablecloths for wedding receptions. Because many venues provide their own generic table coverings, many planners had a difficult time finding the colorful and creative solutions that they desired.
The table display at an event like a wedding reception is very important, and often the tablecloth itself can become the focus of a guest's attention. If the product used is cheap or the coloring clashes with the overall theme of the event, this can leave a negative impression. Because of these elements alone, wedding planners and brides have started putting more care and concern into the products they're choosing for their table settings.
Recognizing this, Table Cloth Factory has introduced a line of table cloths and other accessories ideal for receptions and reception-style events. These colorful tablecloths, overlays and runners are available in a wide selection of beautiful colors and elegant fabrics, including silk, taffeta, linen and lamour. Straying away from the standard, white linen tablecloth that is typically provided at entertainment venues, wedding planners and brides can shop the Table Cloth Factory's wide selection for the latest trends in the wedding industry.
Table Cloth Factory has also placed special attention on the pricing of their tablecloths and other accessories. Whether a consumer is interested in linen tablecloths or more elegant silk table runners, they can enjoy wholesale pricing that is affordable for all budgets. And because these products are often purchased in bulk, bulk discounts are available and shipping large orders can be easily accommodated for those who are in need.
The quality of everything at a wedding reception plays an integral role in the overall experience. Table coverings will not only provide an interested decorative element to the reception, but they will also need to be practical for guests to use as well. These are all things that the Table Cloth Factory has taken into consideration during both their design and manufacturing processes to ensure the highest quality product for both the planner and guest who will be dining atop the table covering provided.
By simply taking a look at consumer demands in the industry, Table Cloth Factory is able to fill a unique niche in the wedding planning industry. Their wide selection of tablecloth products that span more than just a white linen tablecloth include interesting patterns, vibrant solid colors and unique fabrics that add detail and class to elegant gatherings. Additionally, they offer complementary items like chair covers, cloth napkins and placemats that can be perfectly coordinated with their existing inventory table coverings.