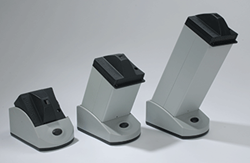 Vernon Hills, IL (PRWEB) April 23, 2014
A new option in measuring color transmittance is now available with an extensive choice of standard color scales. Color Comparators and Meters from Cole-Parmer measure color transmittance of optically clear samples such as water, beverages, syrups, waxes, petroleum oils, chemicals, and more.
Tintometer Comparator 2000 Systems are an economical choice. Durable and portable, simply place sample in vial and compare transmittance to glass color standards. A battery-operated illuminator adds flexibility for laboratory, plant, or field color grading. With a two-section field of view, the sample transmittance is directly compared with individual colored glass standards on a test disk.
Short-Pathlength Color Meters and Long-Pathlength Color Meters are spectrophotometric meters that provide accurate, reliable color data from optically clear samples. The meter automatically measures color transmittance and displays results directly in industry color scales, CIE values, and as spectral data. The short- pathlength meters work well with slightly colored solutions, such as wastewater, syrups, honey, dark oils, and beers while the long-pathlength meters are ideal for very pale solutions such as drinking water, edible oils, fats, and chemicals.
To find out more about the Color Comparators and Color Meters, call 800-323-4340 or go to ColeParmer.com/20903.
Cole-Parmer has been a leading global source of laboratory and industrial fluid handling products, instrumentation, equipment, and supplies since 1955. Our product lines, including popular brand names such as Masterflex®, Oakton®, Digi-Sense™, and more, are sold through company-owned customer channel outlets and a strong network of international dealers. We also feature an ISO-17025-accredited metrology lab for instrument calibration and repair. Cole-Parmer responds with excellence to customer needs, and offers application expertise and technical support. For more information, contact Cole-Parmer, 625 East Bunker Court, Vernon Hills, IL 60061. In the US, call 800-323-4340. International customers, call 847-549-7600. Visit us at ColeParmer.com