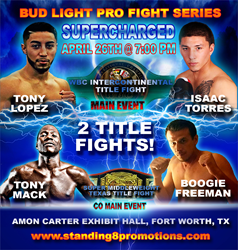 Fort Worth, TX (PRWEB) April 23, 2014
With two title fights, including a WBC IIntercontinental Super Bantamweight Title Fight and a Texas Super Middle Weight Title Fight, and 7 other thrilling bouts, Bud Light Pro Fight Series 2014 is expected to be an exceptionally exciting evening of boxing.
In the main event, Fort Worth's udefeated highly indorsed and admired Tony Lopez (9-0) will contend for 8 rounds for the WBC Intercontinental Super Banamweight Title against Mission, Texas' (5-0-1) prized prize fighter Isaac Torres, who already has 14 national titles and 4 world titles.
The co-main event promises as much excitement with one of Texas' most recognized boxers, Tony Mack of Dallas, TX (9-1 with 5 KOS), defending his highly sought after Super Middle Weight Texas Title against Wichita Falls boxing legend and promoter, James "Boogie" Freeman (9-6) in another 8 round battle.
The undercard is also packed with power, skill and tenacity for consistent excitement all fight night long:
4 ROUNDS MIDDLEWEIGHT
David Roc Hance (Dallas, TX) VS. Cody Perez (Fort Worth,TX)
4 ROUNDS LIGHT MIDDLEWEIGHT
Jonathan Ramierez (Arlington, TX) VS. Cody Pfister (Amarillo, TX)
4 ROUNDS MIDDLEWEIGHT
Joey "Panama Flash" Dunmoodie" (Fort Worth, TX) VS. Mstyinez Porter (Arlington, TX)
4 ROUNDS LIGHTWEIGHT
Kenny "Pitbull" Grammer (Withcita Falls, TX) VS. Kashiff Solarin (Fort Worth, TX)
4 ROUNDS JR. WELTERWEIGHT
Marquis Taylor (Houston, TX) VS. Hector Martinez (Fort Worth, TX)
4 ROUNDS SUPER MIDDLEWEIGHT
Mike "Italian Stallion" Tufariello (Carrollton, TX) VS. Chris Barnes (Tulsa, OK)
4 ROUNDS WELTERWEIGHT
Craig "Cracking" Callaghan (Liverpool, England) VS. Jerron Lockette (San Antonio, TX)
To learn more about this exciting Standing 8 Promotions event or to purchase tickets online, go to http://www.standing8promotions.com/. Tickets for this 2 Title Fight event have already sold out in several sections so purchasing tickets before the April 26th event is recommended.