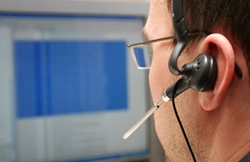 We chose CallMiner to help us take our company to the highest levels of customer retention and satisfaction.
Boston, MA (PRWEB) April 24, 2014
Inbound Call Experts, LLC, (ICE) a leader in premium technology services and software support and CallMiner, the market leader in speech and voice of the customer analytics solutions for contact centers, today announced that ICE will implement CallMiner Eureka, the leading speech analytics solution for improving contact center performance. In addition, ICE will also utilize CallMiner Redactor as an additional tool to maintain PCI compliance.
With the help of CallMiner Eureka, ICE plans to roll out a new quality management program for its agents. By monitoring and scoring 100% of phone calls, ICE will maintain high standards and agent quality while also improving call center operations. By delivering timely performance feedback directly to agents, CallMiner Eureka will enable ICE to train its representatives to solve problems faster and more efficiently while ensuring a high level of service for its customers.
"We chose CallMiner to help us take our company to the highest levels of customer retention and satisfaction. Their technology will increase customer satisfaction by putting a premium on quality assurance across all departments while making training and implementation much more efficient." said Paul Herdsman, COO and Co-Founder of Inbound Call Experts.
"Inbound Call Experts fully embraces the idea of maintaining a high level of contact center performance and customer service using speech analytics," said Terry Leahy, Chief Executive Officer at CallMiner. "I have no doubt that they will take full advantage of the technology to build an effective quality management program."
About Inbound Call Experts, LLC
Through its "Advanced Tech Support" brand, Inbound Call Experts has hundreds of US-based agents that provide premium technology support for customers worldwide. Founded in 2011 and based in Boca Raton, Florida, ICE is dedicated to ensuring that its customers are getting the highest levels of services and products while keeping customer satisfaction as its highest priority. For more information, please contact Inbound Call Experts at (561) 705-0700, or visit http://www.inboundcallexperts.com.
About CallMiner
CallMiner helps businesses and organizations improve contact center performance and gather key business intelligence by automating their ability to listen to every customer interaction. CallMiner's Eureka product portfolio automates the overwhelming process of monitoring information from 100% of interactions – calls/audio, chat, email, surveys and social – to uncover consistent and reliable information about agent performance. Real time business intelligence can be leveraged by enterprises to dramatically improve customer service and sales, reduce the cost of service delivery, mitigate risk, and identify areas for process and product improvements. For more information, please contact CallMiner at (781) 547-5666, or visit http://www.callminer.com.