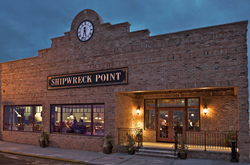 Point Pleasant Beach, NJ (PRWEB) April 23, 2014
Customers do not have to think twice about ordering a bottle of wine with their meal at Shipwreck Point, because that's what everyone does! Shipwreck Point (no affiliation with Brielle restaurant, Shipwreck Grill), is an upscale steakhouse located on the Manasquan Inlet in Point Pleasant Beach. Every element of Shipwreck Point is designed to impress, with beautiful views of the Manasquan Inlet and ambience of finely crafted materials, intimate lighting and warm fireplaces. The restaurant features a premium steak and seafood menu coupled with an extensive wine selection, all adding up to a first-class experience that keeps guests coming back.
Wine prices at the restaurant range from $50 to as high as $925 a bottle. "Most customers are ordering bottles for $200 with their dinner", said General Manager Robert Pascual. "All of our meals are freshly prepared and elegantly presented. Our seafood is the freshest," continues Pascual. "Knowing that we have genuine fresh seafood from local fishermen is what we take pride in. The customers choose what they want and we supply it. We try to keep the menu customary that way."
Shipwreck Point has been a crowd-pleaser, receiving several awards including the NJ Monthly Readers Award for Best New Restaurant, Best Wine List and Best Steak as well as winner of Metromix Jersey Shore Best of Award for Best New Restaurant. "There isn't much competition if you're looking for a high-end restaurant, this is it. The eatery's impeccable service has much to do with our recognition. We don't just hire kids; our servers are trained and are all on point," said Pascual.
Guests are encouraged to take advantage of their off-premise catering and private party space. Free valet parking is also available on the weekends for convenience and will be extended during the summer months.
Shipwreck Point opens Tuesday through Saturday at 5:00 pm and closes at 9:00 pm; Open later on weekends. Hours are 4:00 pm to 9:00 pm on Sundays. They will be open all day on Mother's Day. Wine and beer pairings will be offered soon upon reservation. Visit their website to download their complete menu http://shipwreckpointsteakhouse.com/.
About Bielat Santore & Company
Bielat Santore & Company is an established commercial real estate firm. The company's expertise lies chiefly within the restaurant and hospitality industry, specializing in the sale of restaurants and other food and beverage real estate businesses. Since 1978, the principals of Bielat Santore & Company, Barry Bielat and Richard Santore, have sold more restaurants and similar type properties in New Jersey than any other real estate company. Furthermore, the firm has secured in excess of $500,000,000 in financing to facilitate these transactions. Visit the company's website, http://www.123bsc.com for the latest in new listings, property searches, available land, market data, financing trends, RSS feeds, press releases and more.