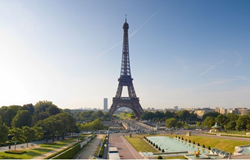 "Art washes away from the soul the dust of everyday life." - Pablo Picasso
Nanuet, NY (PRWEB) April 25, 2014
No doubt there will be many celebrations upon the long-awaited reopening of the Picasso Museum in Paris in June. Housed in the Hôtel Salé, considered one of the finest historic baroque mansions in the Marais district of Paris, the newly renovated Picasso museum features 37 permanent galleries, a new garden with a large pergola, a 95 seat auditorium, workshop for school groups and a cafe.
Not only will this newly renovated space hold more than 5,000 pieces of the Spanish artists' works including paintings, sculptures, sketches, photographs, ceramics, and archive documents, but will exhibit paintings from other prolific artists including Matisse, Renoir, and Cezanne. These belonged to the Picasso estate and were left to the foundation. With this tremendous collection of work from Picasso and the other masters, the Picasso Museum should be on every art lover's bucket list.
The public space has more than doubled since the museum opened its doors in 1985. The works were bequeathed by Picasso's widow according to his wishes upon his death in 1973.
The museum welcomed over 450,000 visitors each year, but with this new space they are anticipating over twice the number of visitors.
A river cruise on the Seine is a great way to take in all the culture offered at the Musee Picasso as well as the city of lights and the surrounding area of Paris.
Euro River Cruises is a pioneer in the river cruise business and has been representing European river cruise companies in the US, Canada, Australia, New Zealand, South Africa and Ireland for 15 years.
They offer a wide range of river cruise programs, from three to 29 days, on all of Europe's major rivers including the Rhine, Danube, Rhone and Seine. They also offer cruises on the Guadalquivir in Spain, the Douro in Portugal, the Po River in Italy, the Tisza in Hungary and the Garonne in France.
For more information, contact http://www.EuroRiverCruises.com.
Euro River Cruises, 365 Route 304 Nanuet, NY 10954, 1 (800) 768 7232