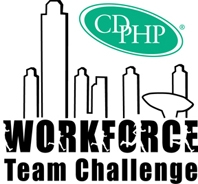 Albany, NY (PRWEB) April 25, 2014
With only one week left to register for the CDPHP Workforce Team Challenge, we want to be sure you have the team, the tools, and cheering section at the finish line on May 15.
The race is open to teams of employees from corporations, businesses, government agencies, educational institutions, non-profit organizations, and financial institutions. Registration ends May 2.
The 3.5 mile race, which is set for May 15 at 6:25 p.m. at the Empire State Plaza in Albany, is the largest annual road race between Utica and New York City, attracting thousands of runners, joggers and walkers of all fitness levels.
The newly certified course has the potential for faster run times, as the starting line has been moved up Madison Avenue, alleviating congestion at the start of the race. Also new to the CDPHP Workforce Team Challenge, live music will be provided at several locations along the course!
Registration will be capped at 10,000 participants.
Get Registered!
Appoint a team captain, recruit co-workers, and register at the official CDPHP Workforce Team Challenge site.
Get Social!
Once you've registered, join the CDPHP Workforce Team Challenge community on Facebook, Twitter, and Instagram. Share photos, training progress, and more at #TeamChallenge!
Get Pumped!
Watch the official CDPHP Workforce Team Challenge video.
The event is organized by, and serves as the major fundraiser for, the Hudson Mohawk Road Runners Club (HMRRC). The funds raised help underwrite many of HMRRC's activities and services, including college scholarships, grants, running clinics, and the Just Run® Program geared to grade school runners.
Race proceeds also benefit non-profit organizations chosen by the club each year. This year, four local charities will receive funding support.

Fast Break Fund is a local non-profit organization that enriches the lives of children living with special needs and underprivileged children through participation in organized sports programs and clinics offered free of charge.
Rebuilding Together Saratoga County, Inc. provides volunteers to work on free home repairs for older adults, persons living with disabilities, low-income families, and veterans.
Schenectady Inner City Ministry is a partnership of 53 faith congregations that offers programs that serve low-income people, especially those who experience food insecurity.
St. Catherine's Center for Children provides a comprehensive range of human services designed to offer hope, foster growth, and improve the lives of children and families.
About CDPHP®
Established in 1984, CDPHP is a physician-founded, member-focused and community-based not-for-profit health plan that offers high-quality affordable health insurance plans to members in 24 counties throughout New York. CDPHP is also on Facebook, Twitter, LinkedIn and Pinterest.