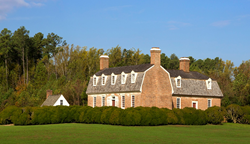 Middlesex County, VA (PRWEB) April 24, 2014
The historic Wilton home will open Saturday, May 10 from 10 a.m. to 4 p.m. for the public to view.
One of the best preserved 18th century plantation houses in Virginia, Wilton was completed in 1763 by William Churchill, the third generation of his family to occupy high positions in colonial and county government. The house was named in honor of Wilton House in England, and the estate remained in the Churchill family until 1829.
Now, after two years of intensive preservation and modernization work, Wilton remains very much the same plantation house that was built 250 years ago: a handsomely furnished, T-­‐ shaped, 1 1⁄2 story, gambrel-­‐roofed, brick structure of simple but elegant Georgian design.
Its 4,000 square feet of interior space are distributed over eight rooms with eight fireplaces served by three impressive white-­‐capped chimneys. To this date, its external footprint – made of bricks kilned on the property, laid in Flemish bond and set in oyster shell mortar — stands unaltered. Six of its eight rooms retain their original heart-­‐pine floors, never sanded or varnished. The beautiful pine paneling in the Southwest parlor with its molded cornice ornamented with fine dentils today wears only its second coat of paint ever, an ice-­‐blue applied circa 1790.
The current owner has graciously agreed to open the doors to Wilton in support of the Middlesex County Museum & Historical Society, Inc. whose mission is to preserve, and foster the telling of, the rich history of Middlesex County. Admission is $30 for tickets purchased at the door and $25 for tickets purchased by May 3.
Please visit http://www.middlesexmuseum.com to purchase advance tickets or send a check made out to the Middlesex County Museum to P.O. Box 121 Saluda, Va. 23149. Call 804‐776‐6983 with questions or concerns.
Beginning this spring, Wilton is also available for short­‐term rental, accommodating up to six persons for stays from two nights to two months.
For further information, see http://www.vrbo.com/506509 or http://www.wiltonhousevirginia.org.
Lunch or dinner may be enjoyed at two nearby restaurants with 15% off any item except alcoholic beverages. Tour tickets must be presented at the restaurant for the discount. The restaurants are Merrior in Topping and The Steamboat Restaurant in Hartfield.
Reservations are encouraged for the Steamboat Restaurant 804-­776‐6589.