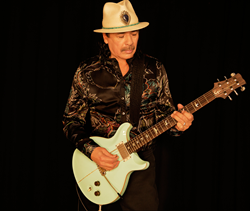 Stevensville, MD (PRWEB) April 25, 2014
PRS Signature Artist Carlos Santana's first-ever Latin music album, Corazon, will be released on May 6th on RCA/Sony Latin Iberia. Corazon brings Santana back to Guadalajara near his birthplace, and celebrates Santana's love of his musical heritage, as well as showcases his own personal influence on Latin music and on today's generation of Latin superstars. To celebrate this release and the legendary career of the ten-time Grammy award winner, HBO Latino ® is airing a two part event: Santana: De Corazon and Santana-Corazon: Live from Mexico: Live It to Believe It.
Santana: De Corazon is a half-hour special that spotlights the iconic Mexican-American artist through a collection of interviews by his musical peers mixed with touching insights from members of his most intimate circles. Santana-Corazon: Live From Mexico, Live It To Believe It is a documentary and tribute concert that took place at a sold out Arena VFG in Guadalajara, Mexico this past December. This once-in-a-lifetime concert presented star-studded performances to music lovers who enjoy Santana's electrifying sound, along with performances by musicians and friends. Elan Atias, Chocquibtown, Cindy Blackman Santana, Lila Downs, Gloria Estefan, Juanes, Miguel, Fher Olvera of Mana, Nina Pastori, Salvador Santana, Samuel Rosa of Skank, Romeo Santos, Soledad and Diego Torres.
The Santana: De Corazon special will air in Spanish with English subtitles on April 21st at 9:30 p.m. ET/8:30 p.m. CT, exclusively on HBO Latino. Santana-Corazon: Live from Mexico: Live It to Believe It concert will air in Spanish with English subtitles on April 21st at 9:30 p.m. ET/8:30 p.m. CT, exclusively on HBO Latino. The Santana-Corazon: Live from Mexico: Live It to Believe It concert and documentary will air exclusively in the U.S. on HBO Latino on May 3rd, at 8:00 p.m. ET/7:00 p.m. CT. It will also be simulcast in Latin America and the Caribbean.
Carlos Santana has a long standing relationship with Maryland guitar manufacturer, Paul Reed Smith Guitars that began in 1981 when he borrowed a PRS guitar to use on his "Zebop!" album. Through the years, Santana has collaborated with PRS's working founder, Paul Reed Smith, on the design of both US-made "Santana" model instruments and PRS "SE Santana" guitars, which are manufactured under license in Korea. PRS's SE line began in 2001 and is the result of Santana's desire to offer his signature guitars at a more affordable price point. Santana is one of only three artists to have both an American-made PRS signature model and a PRS SE signature model (along with Mark Tremonti and Dave Navarro).
To hear Santana discuss the role of art and music in the world and how to find your own artistic voice with fellow artists Derek Trucks, Warren Haynes, and Paul Reed Smith, watch PRS's Foundations video here: http://www.youtube.com/watch?v=T-ZoPlq_PrA.
About PRS Guitars: Paul Reed Smith Guitars is a leading manufacturer of high quality instruments in Stevensville, Maryland and has provided some of the world's most renowned musicians with instruments since 1985. The PRS team of highly skilled craftspeople design and build a wide variety of musical instruments and gear for worldwide distribution, including electric, acoustic, and bass guitars as well as boutique-style guitar amplifiers. The PRS SE line of products complements the Maryland-made PRS line by offering highly approachable and more affordable electric and acoustic guitars and guitar amplifiers. Carlos Santana, Neal Schon, John McLaughlin, Linkin Park, Orianthi, Opeth, Zach Myers of Shinedown, Mark Tremonti of Creed and Alter Bridge, Ricky Skaggs, Cody Kilby, Martin Simpson, Tony McManus, Warren Haynes, and Derek Trucks are among the artists currently playing PRS instruments and/or amplifiers.
PRS Guitars Info: http://www.prsguitars.com
About SANTANA: For forty years and as many albums later, Santana has sold more than 100 million records and reached more than 100 million fans at concerts worldwide. To date, Santana has won ten GRAMMY ® Awards and three Latin GRAMMY ® Awards. He won a record-tying nine GRAMMYs for a single project for 1999′s Supernatural (including Album of the Year and Record of the Year for "Smooth"). He has also received the Billboard Century Award (1996), was ushered into the Rock and Roll Hall of Fame (1998), and received the Billboard Latin Music Awards' Lifetime Achievement honor (2009). Among many other honors, Carlos Santana has also been cited by Rolling Stone as #15 on their list of the "100 Greatest Guitarists of All Time." Celebrating the chart debut of Guitar Heaven (Arista) in 2010, Santana joined the ranks of the Rolling Stones as the only musical act in chart history to score at least one Top 10 album in every decade beginning with the 1960s. In 2013, Carlos Santana was the recipient of the 2013 Kennedy Center Honors Award. In spring of 2014, Santana embarks on an 18 show US tour with Rod Stewart as well as announcing stand-alone dates for 'The Corazon Tour.'
http://www.santana.com
http://www.facebook.com/carlossantana
https://twitter.com/SantanaCarlos
About HBO Latino: HBO Latino is a dedicated Spanish-language premium channel that delivers compelling and relevant programming to the U.S. Latino market. Exclusive to the channel are the U.S. premieres of Spanish-language series, films, and documentaries acquired from North America, Latin America and Spain, as well as original short-form programming. Additionally, HBO Latino offers the best Hollywood movies and HBO original programming from the network's main channel in Spanish.
Visit http://www.hbolatino.com for more information or follow us at: http://www.youtube.com/hbolatino, http://www.facebook.com/hbolatino and http://www.twitter.com/hbolatino. HBO Latino is included with an HBO subscription.
Images available: http://prsguitars.com/media/santana2014/