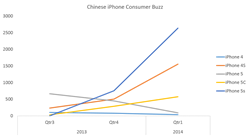 Apple iPhone Sell Through Higher than Q4 2014 thanks to promotions by global retailers.
Los Gatos, CA (PRWEB) April 23, 2014
Global consumers drive more sell through for Apple in Q1 than expected with the iPhone 5c continuing to lag the iPhone 5s and even the aging iPhone 4s. Increased demand across the markets sampled likely due to price drops and other carrier and retailer incentives. Whether this translates to increased revenue for Apple remains to be seen when they announce earnings on 23 Apr.
During Q1 many retailers had significant promotions on iPhones, notably Verizon's efforts to defend against aggression by T-Mobile and AT&T let to significant demand for iPhones, Samsung's Galaxy Note 3 and S4, and surprisingly Motorola made DROID smartphones. This could be Verizon seeking to cleanout excess inventory of smartphones whose hype did not translate into record sales as anticipated.
Consumer discussions of the Price/Value trade-off for iPhones also increased during Q1, supporting the notion that lower prices for these still relatively newly launched handsets is part of what drove increased demand. Best Buy's promotions on the iPhone 5C over the holidays led to not only increased market adoption of the 5C but also a clearing of unwanted inventory by the large retailer in the face of much lower than expected sales for this entry level iPhone. Demand in China supports the assessment of increased Sell Through as well, with overall iPhone consumer buzz at an all time high. Keeping in line with the lopsided performance at launch, the iPhone 5S received five times the buzz of the iPhone 5C. What was most surprising though was the huge increase in iPhone 4S buzz, more than doubling the demand for the iPhone 5C. Whether this created increased revenues for Apple remains to be seen.
Around the world, we see increased demand for iPhones, prompting our assessment of increased sell through for Apple during Q1 2014. Whether this translates to increased revenue for Apple in the next quarter remains to be seen but so far competitive moves by Samsung and HTC have not impacted consumer demand globally for what Apple has to offer.
Argus Insights metrics are based on assessing what products consumers enjoy rather than focusing on what was shipped, purchased or searched for in search engines. These metrics of consumer demand have proven more accurate than traditional forecast metrics, beating 2013 Wall Street estimates of iPhone and Galaxy handsets. Leveraging data from North America, Europe and China, Argus Insights produces a weekly update to global smartphone demand that is available for purchase by firms interested in getting ahead of consumer demand.