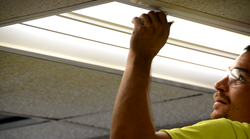 Insight on Innovation Awards give recognition to innovation champions.
Manitowoc, WI (PRWEB) April 25, 2014
Orion Energy Systems has been named a finalist of a 2014 Insight Innovation Award for its breakthrough energy efficient LED troffer retrofit technology (LDR) that is completely assembled within the frame and reuses the original existing troffer housing.
Time and again, Orion has proven to develop an award-winning fixture design that delivers the most amount of light output for the least amount of energy input.
The Insight on Innovation Awards give recognition to innovation champions throughout the New North, affirming how disruptive ideas challenge the status quo. Winners will be announced on May 20 at THINC! (Technology & Human Innovation Networking Conference) hosted by Insight Publications.
Considering that there are an estimated 964 million troffers currently in the United States lighting market, the potential economic and environmental impact of the LDR is remarkable.
The Orion LDR product suite, proudly manufactured in Manitowoc, Wisconsin USA, is designed to retrofit most existing 2'x 2' and 2'x 4' fluorescent troffers and is available in a variety of lens styles, wattages and color temperatures.
For more information about THINC!: http://www.insightonbusiness.com/2014-thinc
About Orion: Orion Energy Systems, Inc. (NYSE MKT: OESX) is the industry's premier provider of lighting retrofit solutions – consisting primarily of high-performance, energy-efficient lighting platforms, intelligent wireless control systems and direct renewable solar technology for commercial and industrial customers – without compromising their quantity and quality of light.
Visit http://www.oesx.com to watch the revolutionary LDR installation video.
Contact: Jennifer McCue, Vice President of Promotions and Sales Opportunities
Orion Energy Systems, Inc.
Phone: 920-482-1907
Email: jmccue(at)oesx(dot)com