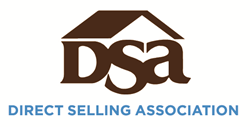 I don't believe we should change this long-standing policy…and I'm not going to.
Washington, D.C. (PRWEB) April 23, 2014
Rep. Dave Camp (R-Mich.), Chairman of the House Committee on Ways & Means, recently met with members of the Direct Selling Association (DSA) Board of Directors and outlined his perspective on what his recently unveiled Tax Reform Act of 2014 would mean for the independent contractor status of direct sellers.
Chairman Camp, who has been a longtime supporter of direct sellers, addressed this question as he stated emphatically, "I don't believe we should change this long-standing policy…and I'm not going to."
Direct sellers have enjoyed a safe harbor provision under section 3508 of the Code since 1982, establishing independent contractor status for direct sellers for all federal employment tax purposes.
The independent contractor status has been critical to the success of direct selling, allowing millions of Americans to enjoy a flexible work arrangement that can meet the goals of a variety of financial and life-stage needs.
DSA opposes any legislation that would undermine the legitimate uses of independent contractors in the marketplace, or would otherwise increase unnecessary bureaucratic burdens on independent contractors or those who use their services.
"Chairman Camp has consistently supported independent contractor status and its importance to the direct sales channel over the years," said DSA President Joseph Mariano. "His work to simplify tax rates and set the nation's economic policy has been vital to our constituencies, and we applaud his commitment to ensuring the independent contractor status of direct sellers remains untouched."
About the Direct Selling Association
DSA is the national trade association of the leading firms that manufacture and distribute goods and services sold directly to consumers. Among its more than 240 active and pending members are companies selling both via a party-plan method and in the traditional person-to-person style. In 2012, U.S. direct sales were more than $31.6 billion with nearly 16 million direct sellers nationwide. The vast majority are independent business people—micro-entrepreneurs—whose purpose is to sell the product/service of the company they voluntarily choose to represent. Approximately 90 percent of direct sellers operate their business part time.
For more information on direct selling, DSA and its Code of Ethics, please visit DSA's website, http://www.dsa.org.