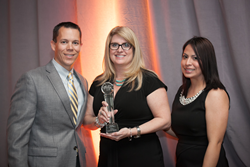 Dallas, Texas (PRWEB) April 24, 2014
The Dallas Builders Association announced the winners of its 35th Annual McSAM Awards on April 10 at a gala held at the Hotel InterContinental. The McSAM Awards are held each spring to recognize "maximum creativity in sales and marketing." Drees Custom Homes won several awards, including the prestigious "Builder of the Year" honor.
Industry experts from around the country including builders, architects, interior designers, and new home marketing professionals judged more than 300 entries that were submitted this year. The awards were presented by the Dallas Builders Association in partnership with PIRCH™.
Besides "Builder of the Year," Drees received three other awards recognizing sales achievement including the following:

Rookie Sales Person of the Year – Matt Lasiter
Sales Professional of the Year $400,001 & $500,000 – James Green
Sales Professional of the Year $500,001 & $600,000 – Don Dail
Drees has been one of few to receive the home building industry's "Triple Crown" – National Builder of the Year, National Housing Quality Award, and America's Best Builder. Locally, Drees builds in over twenty communities throughout the Dallas/Ft. Worth Metroplex.
About Drees Homes
Drees Homes, family-owned and operated for over 85 years, is ranked nationally as the 23rd largest homebuilder by Builder magazine. Headquartered in Ft. Mitchell, Kentucky, Drees also operates in Cincinnati, Dayton, Cleveland, Indianapolis, Jacksonville, Nashville, Raleigh, Austin, and Washington DC/Maryland/Virginia. The company operates as "Drees Custom Homes" in Texas. Visit the company's web site at http://www.dreeshomes.com.
###
For more information contact:
Jamie Ovalle at 972-953-4500
jovalle(at)dreeshomes(dot)com