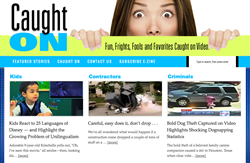 Pranks may be good for your health... with habitual smilers extending their lives, on average, up to seven years. - Caught On Magazine feature
Toronto, ON (PRWEB) April 23, 2014
Although Internet Addiction Disorder (IAD)* is an issue with some addiction-prone personalities, a new series of features in Caught On Magazine proposes some of the many positive aspects of internet content and video, going beyond the educational, informational and entertainment value.
"The Power of Cameras to Make Us Smile"
"Pranks may be good for your health," begins a feature in Caught On Magazine. The article cites research that smiling is good for your health—with habitual smilers extending their lives, on average, up to seven years, according to a Wayne State University study.**
When a prank video makes "20 million YouTube viewers smile, they're actually improving our health," reports the feature writer in Caught On. A hilarious video of a prank played in a bus shelter, which earned millions of views and thumbs-up votes, is used as an example of internet content that is "good for you."
The feature points to various research studies to support its claim, including a thirty-year study from UC Berkeley. Health benefits claimed include:

improved mood response
lowered blood pressure
reduced stress
improved social life
general feeling of well-being
"Zip Line Thrills and Chills: Body Cameras Help Us Experience the Thrill Without the Risk"
Safely enjoying the thrills of extreme sports vicariously via video may also have health benefits, states another feature in Caught On. A popular video of daredevils traveling more than a mile via zip line, at nearly one hundred miles per hour, framed an exploration of "thrill-seeker" personalities. To varying degrees, "people feel the need for thrills out of a need to expose themselves to sensations that are different from the routine," said Glenn Sparks, Ph.D. at Temple University. The craving for thrills may start as early as thrills and scares during trick-or-treating activities for children at Halloween, according to the American Psychological Association.***
The feature demonstrates that thrill-seeking is a way "to work through and release pent-up emotions and anxieties." Body camera video footage taken from the point-of-view of a zip line enthusiast, may bring the benefits of "release" without the risks. On average 48 people die per year zip lining.****
"Bold Dog Theft Captured on Video Highlights Shocking Dognapping Statistics"
Also this week in Caught On, watch hidden camera footage of a dognapping in broad daylight. The story highlights an alarming double-digit growth in dog theft rates each year. Last Chance for Animals put hard numbers on this heartbreaking crime at "two million pets stolen every year."*****
Fortunately, the owners of the dog had installed a camera security system outside their home, increasing their chance of recovering their companion. "An inexpensive camera system can make the difference in recovering a pet," said Tom Leger, VP at iWatchLife, a home security monitoring service. "Using activity recognition, a feature included with the iWatchLife service, an alert notification can even be sent to the owner's smartphone as the crime is happening." The iWatchlife home monitoring service allows for multiple Samsung SNH-1011 IP SmartCam cameras to work within its cloud-based service that can be configured to notify owners of suspicious activity.
*General information on IAD. IAD is generally not considered a genuine psychological disorder, and is not listed in the latest DSM manual (DSM-5, 2013), which is used by psychiatrists to label disorders. http://en.wikipedia.org/wiki/Internet_addiction_disorder
**"Smile Intensity Predicts Longevity" Wayne State University
****Wiki Answers "How many deaths each year from Zip Lining."
*****Modern Dog Magazine "Frightening dognapping statistics"