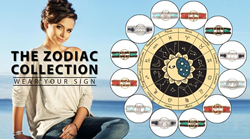 (PRWEB) April 25, 2014
Ashley Bridget recently introduced the Zodiac collection, having customers represent their birth month by wearing a Horoscope themed bracelet. Since its launch, the Zodiac collection has proved to be a popular addition, and continues to be a standout line.
With a charm representing each horoscope sign, the Zodiac collection features 12 styles belonging to an element group; earth, wind, fire or air. Each of the 36 bracelet combinations consists of a gold or silver-colored charm and faux-suede straps in white, black, or colors reflecting their element group. This multiple strand style is consistent with the popular Expression line for which Ashley Bridget is most known.
Each bracelet holds the best personality traits associated with each sign, in line with Ashley Bridget's image as a positive and uplifting brand. The success of this collection is attributed to the personalized nature of the collection. Every customer feels a bit more special, as it is a bracelet dedicated specifically to their sign. Ashley Bridget strives to have every person feel like their pieces express who they are as an individual.
Shop the collection at Ashleybridget.com
About Ashley Bridget
Ashley Bridget embodies the youth, energy, and passion of women all around the world. Being one of the industry leaders in fashion-forward jewelry, we're proud to adorn the bodies of the most stylish and trend-setting women. Outstanding quality and a serious focus on customer care is the key to our success. Every Ashley Bridget piece of jewelry is individually crafted, making every piece unique and charismatic. Our team prides itself on using only the finest quality materials and craftsmanship, and will never settle for anything less.
Today Ashley Bridget has over 75,000 followers on Instagram, and over 300,000 followers on Facebook and counting.
Follow us on Twitter @AshleyBridgetCo
Like us on Facebook