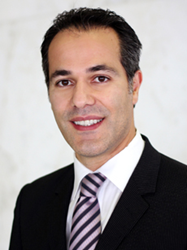 With the right preparation and training, image-guided systems can be easy to use with accurate and reproducible results.
Beverly Hills, CA (PRWEB) April 24, 2014
Los Angeles otolaryngologist Mani Zadeh, MD, FACS has published a recent article in Outpatient Surgery Magazine detailing the benefits of image-guided sinus surgery. In the piece, he discusses how image-guidance technology makes for safer sinus surgery. He also explains to doctors how they can use this technology more efficiently.
Safer Sinus Surgery
"The most important element of image-guided sinus surgery is that it lets you see more clearly inside the sinus cavity," said Dr. Zadeh. "The advantage of this is a reduced risk that the surgeon will accidentally strike a sensitive area."
In the article, Dr. Zadeh describes traditional sinus surgery, which doesn't use image-guided navigation, as "looking down a dark alley with a flashlight." With the help of this new technology, which makes a 3D map of the sinus cavity using CT scans, surgeons can now see the surrounding area in much clearer detail.
Dr. Zadeh also stresses, however, that "navigation is a tool to help with sinus surgery, not a teacher and not a mentor."
More Efficient Image-Guided Sinus Surgery
Dr. Zadeh also offered advice to surgeons who want to implement image-guided technology but worry about the time it takes to set up. He provides a few tips for more efficient sinus surgery with image-guided technology. These include:

Training key staff members in your image-guided system
Implementing the use of wireless instruments
Ensuring that your image-guided systems are compatible with your CT scans
"With the right preparation and training, image-guided systems can be easy to use with accurate and reproducible results," said Dr. Zadeh.
About Dr. Zadeh
Mani H. Zadeh, MD, FACS is a Board-certified otolaryngologist, also known as a head and neck surgeon or an ear, nose, and throat (ENT) surgeon. He is a member of the American Academy of Otolaryngology-Head and Neck Surgery (AAO-HNS) and a fellow of the American College of Surgeons (ACS). Dr. Zadeh's expertise in disorders of the head and neck has made him one of the most sought-after physicians in his field. Through his work at La Peer Health Systems, Dr. Zadeh helps many patients every year regain their health.
La Peer Health Systems is an outpatient surgery center in Beverly Hills, founded by doctors and focused on providing excellent patient care alongside the most cutting-edge medical treatments available. With 40 world-renowned physicians in 13 specialties, we offer comprehensive medical treatment that takes patients from consultation to diagnosis, treatment, surgery, and ultimately aftercare. Our 13 medical departments include orthopedics & sports medicine, gastroenterology, head & neck surgery, colorectal & general surgery, podiatry, ophthalmology, pain management, plastics & reconstructive surgery, gynecology, spine surgery, interventional cardiology, bariatric surgery, and anesthesiology. Unlike large hospitals, La Peer's unique structure offers extremely personal care in a safe and controlled environment. More information about La Peer Health Systems can be found at http://www.LaPeerHealth.com.