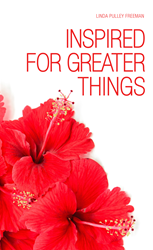 Miami, Florida (PRWEB) April 28, 2014
After the successful launch of her first book, "Thrive!," Freeman immediately began working on her follow up story – what would eventually become "Inspired for Greater Things" (Xulon Press; paperback; March 13, 2014).
While waiting for her manuscript to move through the review process in October 2013, Freeman took part in a two-week work trip to the Teen Challenge program in Phnom Penh, Cambodia. Little did she know just how much those two weeks would impact the course of her book and her future.
From her home in Miami, Florida, Freeman says to read "Inspired for Greater Things" now, it "sounds like I was writing to myself as I was sitting under that thatched roof covered patio at Teen Challenge Cambodia." Spending time working among the street orphans, recovering drug addicts, and former sex-trade workers, her current inspired idea is to take the proceeds from this book and provide ongoing assistance to the Cambodian program.
Freeman is working to organize the resources, including 100% of the proceeds from her new book, to assist Teen Challenge Cambodia (TCC) with one of their program sustainability ideas: installation of a biogas digester.
Installing a biogas digester at the TCC Men's Center will allow them to transform manure from their livestock, kitchen food waste, and human waste into the methane gas for cooking and lighting. The biogas digester will remove the center's reliance on firewood for cooking, reduce the release of untreated waste into environment, and produce high energy, fertilizer that is free from disease carrying bacteria and parasites.
Mrs. Freeman is in the process of organizing two volunteer trips to install the biogas digester at TCC. In September 2014 the team, along with the young men at Teen Challenge Cambodia Men's Center, will construct the biogas digester and load the initial "feeding" of the unit with cow manure, pig manure, and kitchen waste.
By November 2014, the bacteria in the digester will be fermenting and producing methane gas at a steady rate. A second team from Trinity Church in Miami, Florida will return to Cambodia to complete installation of the kitchen equipment and connect a gas line from the digester to the kitchen.
Linda Freeman is excited about the opportunity to use her book proceeds to make this project a reality, and to impact the lives of those who are working to escape the sex trades and drug cultures of the streets.
About Linda Pulley Freeman:
In January 2012, Linda Pulley Freeman published her first book, "Thrive!," out of her personal struggles and victories, while juggling roles as an engineer, wife, mom, ordained minister, mentor, community organizer, and program developer. She and her husband, David, live in southern Florida and enjoy life with their family, including their first grandson. Her second book, "Inspired for Greater Things," was released in March 2014. Her hobbies including photography and exercise, and she is a Registered Yoga Teacher (RYT-200) and a member of the Yoga Alliance. For more information on Linda Pulley Freeman, visit her website http://iamthriving.org/.