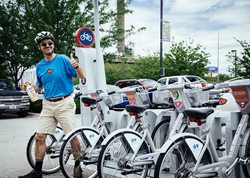 "It's an exciting time for transit overall in KC," says Eric Rogers, Executive Director of Kansas City B-cycle. "Bike share is becoming an important part of the mix along with streetcar, better bus, and someday, commuter rail."
Kansas City, MO (PRWEB) April 24, 2014
The city's bikeshare system, Kansas City B-cycle, Powered by Blue KC is growing its busiest station to better accommodate high traffic there. The ten-dock 3rd and Grand station, located catty-corner from the City Market, will soon get spaces for four more bicycles. The addition comes as the city begins laying track for its streetcar starter line, which will run adjacent to the 3rd and Grand station. B-cycle is also expanding its system, with new stations coming soon to the Plaza and Westport areas.
"It's an exciting time for transit overall in KC," says Eric Rogers, Executive Director of Kansas City B-cycle. "Bike share is becoming an important part of the mix along with streetcar, better bus, and someday, commuter rail."
Like other bike share systems, B-cycle works by letting users check out bikes from fully automated stations then ride to another station close to their destination. It helps avoid parking charges in the city, it is faster than walking, and it helps transit users make connections. B-cycle, which launched in Summer 2012, currently has 12 stations in and around the Downtown and Crossroads.
The system has been popular, logging thousands of users and rides since its launch.
B-cycle chose to move ahead with adding new docks at 3rd and Grand after noting consistent high use of the station.
"It's often full, leaving arriving riders without a place to dock, or empty, leaving no bikes to check out" says Eric Bunch, Director of Operations for Kansas City B-cycle.
B-cycle can "rebalance" stations by moving bicycles to where they're needed, but demand at 3rd and Grand has made it difficult to keep up.
B-cycle's Bunch says that shouldn't be a surprise, with a growing number of residents and businesses in the River Market area. And traffic is set to increase with completion in mid-2015 of the city's streetcar starter line, which will end it runs at 3rd and Grand. Meanwhile, the Kansas City Area Transportation Authority's (KCATA) 3rd and Grand Park & Ride lot, in which the B-cycle station is currently located, is set for development in coming years into a mixed-use transit center. The development has been touted as a possible Kansas City terminus for a regional commuter rail system.
The bike share system is also doubling in size in coming months, with new stations planned for Westport, the Country Club Plaza, and the Kauffman Foundation.
"In several senses, we're at the center of exciting changes coming to transportation in Kansas City," says executive director Rogers. "Expanding our River Market station is just the beginning."
About Kansas City B-cycle
Kansas City B-cycle, powered by Blue KC, is a bikeshare program with 12 stations across greater Downtown Kansas City that seeks to be a major part of the region's expanding public transportation network as a fun and convenient alternative. An affiliate of BikeWalkKC, B-cycle is making Kansas City a healthier, more livable, and economically competitive place to live, work and play.