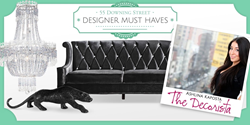 We have teamed up with an exceptional roster of top interior designers who we believe expertly deliver on 55 Downing Street's promise of high style and high value.
Los Angeles, California (PRWEB) April 28, 2014
55DowningStreet.com announces "Designer Must-Haves," a series of home decor sale events curated by leading interior designers. Each five-day sale event will feature a themed selection of handpicked designs reflecting the curator's unique style and personality. This new program furthers 55 Downing Street's mission to be a premier source for designer home decor and furniture.
Launched in 2012 by retail lighting leader Lamps Plus, 55DowningStreet.com offers design enthusiasts a wide selection of permanently stocked merchandise, alongside weekly style-driven sale events. "We see the Designer Must-Haves series as a home and apartment decorating resource for those seeking upscale, luxury looks and room-specific recommendations from acclaimed designers," explains Manja Swanson, Chief Creative Officer at Lamps Plus.
Ashlina Kaposta, New York-based founder of home decorating and lifestyle blog The Decorista, will curate the first Designer Must-Haves event. Titled "Luxurious Looks" and open to consumers April 28-May 3, 2014, Kaposta's designer home decor sale event will feature dramatic crystal draped lighting, mirrored furniture, diamond tufted seating and more. "The trick to making a room enviable is using only the things that you absolutely fall in love with," explains Kaposta. Her selection of home furnishing finds has been carefully curated to give consumers access to decor and furniture selections from a designer's eye at deals they can't pass up.
Each month a new designer will host their own Designer Must-Haves sale that matches their unique aesthetic. Swanson explains, "We have teamed up with an exceptional roster of top interior designers who we believe expertly deliver on 55 Downing Street's promise of high style and high value." Achieving the look of a designer living room just got easier at 55 Downing Street.
Following is the initial list of designers curating an upcoming event, with many more to be added:

Ashlina Kaposta (New York, NY) – The Decorista
Lisa Mende (Charlotte, NC) – Lisa Mende Design
Christian May (Los Angeles, CA) – Maison21
Traci Zeller (Charlotte, NC) – Traci Zeller Designs
Jenny Komenda (Phoenix, AZ) – Little Green Notebook
Backed by Lamps Plus and its worldwide team of design experts, 55 Downing Street offers shoppers a level of service uncommon in the flash sales arena, including free shipping on most items, the ability to accept returns, and the expedience of shipping most designs straight from the company's Southern California warehouse.
ABOUT ASHLINA KAPOSTA
Ashlina Kaposta is the New York-based founder of The Decorista. Her services range from e-decorating to full service interior design and set/editorial styling. Read her blog on thedecorista.com to learn her secrets and inspiration for a life well styled.
ABOUT 55 DOWNING STREET
55 Downing Street is a new concept in online retail offering both permanent merchandise assortments and limited-time, limited-quantity home furnishings sale events. Featuring designer furniture, home decor and lighting at exceptional discounts, 55 Downing Street is part of Lamps Plus, America's largest and most trusted lighting retailer. 55DowningStreet.com offers perks not found on most flash sale sites, including a no-nonsense return policy, attentive customer service and top quality products sourced from the parent company's worldwide team of industry experts. With sale events organized around design and seasonal themes at savings up to 70% off, 55DowningStreet.com is the new destination for deep discounts on high style. New sale events are added every Monday, Tuesday, Wednesday, Thursday and Friday at 55DowningStreet.com.