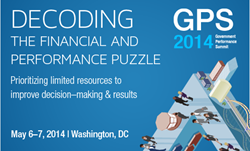 It is an extreme honor for the Government Performance Summit to host members of the PIC.
Alexandria, VA (PRWEB) April 24, 2014
The 14th annual Government Performance Summit (GPS2014) is proud to announce that members of the Performance Improvement Council (PIC) are set to attend in order to collaborate, discuss future goals, and examine current performance issues. Discussing the future direction of research and goals at the May event, as well as hearing from performance professionals about challenges and opportunities will allow the PIC to further its work of collaboration and research.
PIC is an inter-agency body that supports cross-agency collaboration and best practice sharing. Established under Executive Order 13450 in 2007 and codified in law under the GPRA Modernization Act of 2010, members of the council work to advances and expands the practice of performance improvement. Those members already committed to attend are Jeffrey Press, PIC, Office of Executive Councils and Asma Mirza, performance manager, Office of Management and Budget.
"It is an extreme honor for GPS2014 to host members of the PIC," explains Jon Desenberg, policy director, The Performance Institute. "The PIC facilitates information exchange among agencies—so it is fitting to have these distinguished performance policy makers on hand to talk about how to assess opportunities; in what way can an agency and program accelerate performance improvements; as well as the future direction of performance within the Federal space."
About the 14th annual Government Performance Summit
GPS2014 is presented this year by The Performance Institute (http://www.performanceinstitute.org) and the Association of Government Accountants (https://www.agacgfm.org). The event brings together professionals who are leading the way in finance and performance within their federal agencies, state and local governments, and commercial organizations. Get more information about GPS2014 by visiting http://www.governmentperformance.org.