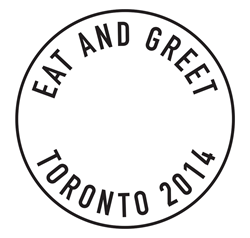 Toronto, Ontario, Canada (PRWEB) April 24, 2014
Local nutrition education initiative, My Food My Way, is set to host Eat and Greet – a unique food industry showcase for Toronto high school students – on June 23rd, 2014 at the Gladstone Hotel.
The goal of the event is two-fold: to highlight the diversity of food-related jobs in Toronto and allow students to network with industry leaders; and to get students and professionals to work together in order to discover and design innovative ways to inspire young people to eat healthier.
Eat and Greet is part of My Food My Way's continuing effort to "change the culture of food in Toronto's homes, schools, and communities," and is exemplary of an engagement-focused campaign that strives to get young people to play an active role in defining that culture.
Abbey Sharp, a Registered Dietician and popular food blogger, is a featured Eat and Greet participant who has previously contributed to the My Food My Way campaign. Last summer, Sharp's pop-up food competition, Abbey's Kitchen Stadium, saw My Food My Way ambassadors work alongside high-profile chefs from Toronto's culinary scene.
Discussing My Food My Way, Sharp notes, "I truly believe that this is the only approach to nutrition education that will make long-lasting lifestyle changes for young adults, and ultimately shape the health of our future society."
My Food My Way was spearheaded jointly by the Toronto Education Workers (TEW) and the Toronto District School Board as part of their Healthy Learning Healthy Living initiative. "By facilitating meaningful relationships between students and professionals, we are hoping to inspire the next generation of food industry leaders," said John Weatherup, President of the TEW.
Eat and Greet organizers are still looking for dynamic professionals to get involved in the event. Food industry professionals that are interested in participating will be able to get more information through the event's website, while interested students will be able to begin registering to attend in mid-May.