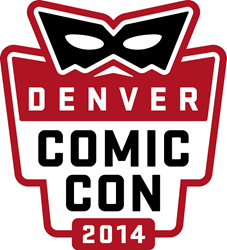 Our goal at Denver Comic Con is for everyone—from children to teens to adults—to come away from the weekend having learned something new.
Denver, CO (PRWEB) April 24, 2014
Denver Comic Con and Literary Conference (DCC), a program of Comic Book Classroom(CBC) designed to help promote literacy through pop culture, today announced it will be presenting approximately 300 hours of educational programming as part of its continuing mission to provide educational content and focus on the value of comics and other pop-culture media in improving literacy.
"We want everyone—kid and adult—who comes to DCC to attend as much programming as they can fit in so they come away from our event having learned something," said Bruce MacIntosh, chairman of the board of Comic Book Classroom and director of programming for DCC. "Our educational programs extend beyond our after-school programs for kids; the foundation of everything we do is to educate and inspire a love of learning."
DCC is offering informative and educational programming for attendees and guests throughout the weekend of the convention. "We'll have plenty of Q and A's with celebs and comic pros," said MacIntosh. "But our goal at Denver Comic Con is for everyone—from children to teens to adults—to come away from the weekend having learned something new. As such, the education missions of both our Comic Book Classroom and the Con are always being served."
DCC is partnering with Illegal Pete's restaurants to sponsor the attendance of 100 local middle and high-school students. "Experience the CoMix" will give students the opportunity to present their own pop culture oriented school projects and develop an appreciation for comics and pop culture by attending panels about career opportunities and fostering their own skills as comic creators.
Additionally, DCC created a special Education Day just for educators. "Our goal has always been one to inspire teachers," said MacIntosh. "We don't just want to expose them to new teaching tools and curricula, but we also want to give them the freedom to explore the other awesome panels that range from diversity topics to filmmaking. Our organization operates on the basic premise that comics and other popular media can effectively teach children the fundamentals of reading, as well as being an essential learning tool for changes in social culture."
To ensure teachers are able to attend DCC's Education Day and come away with the information and materials they need to successfully introduce comics into their classroom, 200 free educator passes will be distributed to local teachers and instructors. In exchange for the passes, educators will be asked to participate in three hours of programming that day. Educators will also receive a special curriculum package to help them introduce comics into their classrooms.
In addition to DCC's focus on education, the third annual Rocky Mountain Conference on Comics and Graphic Novels (ROMOCOCO), a literary conference focusing on the study and discussion of the ever-widening academic field of comics studies, will be held in conjunction with the con. Its mission is to make the cutting edge work done by comic book scholars across the world accessible to new audiences of teachers, students, and professionals. Past keynote speakers include Chris Ware and Scott McCloud, and guests have presented scholarly papers on key issues in comic book scholarship, pedagogy, and creation.
For additional information and tickets, visit http://denvercomiccon.com.
About Denver Comic Con
Entering its third year, the Denver Comic Con (DCC) is Denver's premiere pop-culture fan experience, covering the worlds of comic books, film, and related media. It is also an extension of and an awareness builder for its parent organization, Comic Book Classroom. For the latest news and information, visit http://www.denvercomiccon.com.
About Comic Book Classroom
Comic Book Classroom (CBC) is a charitable organization that educates through alternative approaches to literacy, learning, and character development. CBC creates programs for students, schools and communities via comic books, graphic novels, and related media. CBC is the organizer and producer for the DCC. http://www.comicbookclassroom.org.
###
Media Contact:
Jason Jansky, DStreet
jjansky(at)dstreetpr(dot)com
(303) 748-3300