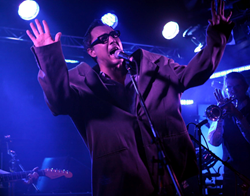 Falls Church, VA (PRWEB) April 24, 2014
In the spring of 1984, Talking Heads and Director Jonathan Demme released what is still widely considered as one of the greatest rock & roll documentaries of all time. Stop Making Sense captured the spirit of Talking Heads at the peak of their creative endeavors. Spanning their expansive catalog of music, the movie took viewers on a unique journey unlike anything before it. Not to mention the famous "big suit" worn by David Byrne that is now one of the most iconic costumes in Rock music.
For Psycho Killers, a Talking Heads tribute band out of Baltimore who have been performing in front of sold out crowds in the Mid-Atlantic for over 5 years, this seemed like the perfect opportunity to do something special. "I was always a fan of Talking Heads, but seeing Stop Making Sense for the first time was a life changing experience," said Ryan Porter, bassist for Psycho Killers. "The way the band told a story through visuals and music blew me away. Every time I watched it, which was a lot of times, something else stood out to me that I didn't notice the first time around."
For this once in a lifetime show, the band is partnering with a visual artist out of Boston, Devon Bryant, who is known for his mind bending images he produces for EOTO, an electronic duo comprised of members of The String Cheese Incident. "Devon brings a truly unique vision to the table," remarked Jon Wood, lead singer and guitar player. "The first time I saw his work, I knew I had to do a show with him. When this opportunity came up, he was the first person we thought of. I can't wait to see what he puts together for this show."
Opening the show will be Soohan, a Baltimore-based DJ that will be spinning remixes of 80s/Talking Heads inspired songs.
Doors open at 8:00 PM. Tickets are $15 in advance and $18 day of show. This show is 18+.