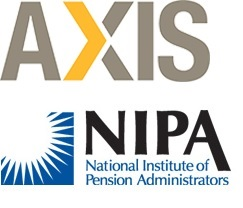 Chicago, IL (PRWEB) April 24, 2014
The Department of Labor introduced regulations in 2012 that require all retirement plan service providers to fully disclose their retirement plan fees, compensation and services provided to plan fiduciaries.
The AXIS Retirement Analytics Platform™ is the industry's only comprehensive option for DOL's new regulatory requirements. Automated data aggregation, 408(b)(2) & 404a-5 Disclosure module, extensive reporting, & On-Demand Benchmarking - complete with audit controls. Data drives the AXIS Retirement Platform, and is aggregated on a monthly basis from our Data Providers. Plan & fee data populates a dashboard tracking Plan changes & ensuring the most current plan information. Additionally, the AXIS Retirement Platform can be used for data mining and consulting projects.
"As NIPA continues to focus on advancing the business of TPAs, we are pleased to sponsor this new partnership for our members," said Laura Rudzinski, NIPA executive director. "AXIS Platform is well known for providing a comprehensive flexible solution and excellent, personalized service – something we know is very important to our members."
"We're excited to see this partnership come to fruition," added Khash Sarrafi, CEO of Castle Rock. "This partnership is built on two outstanding organizations: NIPA, representing the retirement and employee benefit plan administration profession and Castle Rock Innovations, providing the leading plan data aggregation, benchmarking and 408(b)(2) disclosure services available. This partnership is driven by the TPAs who are looking for innovative solutions and service; we will provide a cost effective turnkey solution so that the TPA members can focus on expanding their business and not worry about data and compliance."
"AXIS Retirement Analytics Platform™ is known in the industry for offering comprehensive solution for clients and exclusive programs to TPAs," said Randy Namin, Director of Sales of Castle Rock. "We understand the fine details of representing the compliance needs of TPA firms, and we have the strong industry relationships needed to offer the most comprehensive and cost-effective solution available.
Castle Rock Innovations will be showcasing AXIS Retirement Analytics Platform™ at the upcoming NAFE 2014 in Las Vegas, The Cosmopolitan of Las Vegas on April 27-30, 2014.
###
About NIPA
The National Institute of Pension Administrators (NIPA) is a national association representing the retirement and employee benefit plan administration profession. It was founded with the idea of bringing together professional benefit administrators and other interested parties to encourage greater dialogue, cooperation and educational opportunities. NIPA's goal is to improve the quality and efficiency of plan administration. NIPA fosters the highest standard of ethical and professional conduct by providing self-improvement outlets to all members and interested parties. NIPA offers two main educational programs each year: the executive-focused Business Management Conference and the all-level Annual Conference. The association sponsors two professional designation programs: the Accredited Pension Administrator (APA) and the Accredited Pension Representative (APR). To supplement its educational programming, NIPA promotes local chapters and publishes a quarterly newsletter. For more information, visit http://www.nipa.org or call 800.999.6472 (NIPA).
About Castle Rock Innovations and AXIS
Castle Rock Innovations has been serving the financial industry for over 20 years by providing our clients with technology that improves efficiency and creates value. In anticipation of 401(k) fee disclosure regulations that were introduced in 2012 by the Department of Labor, Castle Rock innovations developed the Axis Retirement Analytics Platform™, a real-time, web-based platform that allows retirement TPAs, broker-dealers, record keepers, banks and retirement plan fiduciaries to meet these regulatory fee disclosure reporting requirements. Today the Axis Retirement Analytics Platform™ is an industry leading product used by many top industry companies in the nation. AXIS currently has direct connections to over 75+ Record Keepers and Insurance companies to support over 100 clients with 70,000 plans and over $100B AUM.
Castle Rock Innovations Inc. is a privately owned and operated corporation with headquarters in Chicago Illinois and offices throughout. Our company has been recognized by Inc500 as one of the fasted growing private companies. http://www.axisretirement.com