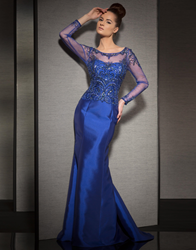 Atelier Clarisse embodies class and sophistication while still keeping on trend with fresh designs.
Philadelphia PA (PRWEB) April 24, 2014
Women's special occasion fashion label Clarisse announces the debut of Atelier Clarisse, a new social occasion and evening wear line for a sophisticated audience and the highly anticipated addition to the brand's extremely successful special occasion attire for young adults.
Since the birth of Clarisse Inc. in 2009, its focus on prom and homecoming dresses has extended far beyond the original product line to sweet sixteen dresses, pageant gowns and Clarisse Classic—a youthful cocktail line designed for women in their early twenties. Now, the evolving Clarisse brand is aiming to appeal to women of every age with Atelier Clarisse. Designed with the elegant cosmopolitan woman in mind, Atelier Clarisse is ideal for black tie affairs. The new line focuses on high quality chiffon, satin and lace and showcases deeply cut necklines and sheer overlays.
"A goal of ours while developing this new line was to stick to the core concept of the Clarisse brand by offering unique designs using high quality fabrics at the best possible prices. We saw our concept carry over to every price point with the Clarisse Couture line and saw the possibility of furthering our expansion to women of every age," explained Daniel Adrian, CEO of Clarisse Inc. in reference to the overwhelmingly positive reaction to the November, 2013 Clarisse Couture line launch.
"Atelier Clarisse embodies class and sophistication while still keeping on trend with fresh designs. Our hope is that customers will begin to think of Clarisse as their go-to brand for any event with our new collection being ideal for everything from black tie affairs to mother of the bride," he said.
Adrian went on to explain how the versatility of the Clarisse brand is epitomized in Clarisse Atelier. This line is going to open the doors to an entirely new customer base, and has already debuted at the Atlanta Apparel Market on April 1st, 2014 and at the National Bridal Market Chicago April 5th, 2014.
Clarisse will be releasing photos of the Atelier Clarisse line to hundreds of stores nationwide as well as dozens of international retailers later this season.