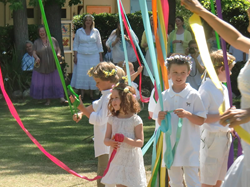 Northridge, CA (PRWEB) April 25, 2014
This is a "don't miss" annual event for families with children of all ages. We welcome our community, family and friends to join us for Highland Hall's annual May Faire, Saturday May 3rd from 12-4 pm.
The May Faire features freshly prepared natural food selection including tostadas, authentic samosas, desserts and treats with many vegetarian and vegan options.
Activities include good, old-fashioned games like the egg-race and the three-legged race along with face painting, storytelling, and a wandering Pocket Fairy whose myriad of pockets offer tiny homemade treasures to the children.
Delectable prizes can be won in the annual cakewalk and children of all age can participate in crafts such as fresh flower head-wreath making and flowerpot crafting.
Learn about gardening and backyard farming from our very own Garden Gnome Society who will be selling produce from our school's biodynamic farm. Or select a seedling to take home to your own garden.
Live acoustic music and an open drum circle provides entertainment while shoppers can enjoy the wide array of artisan vendors selling their creations, gorgeous silk paintings, various handmade offerings by the school's 12th grade economics class and an art show by the school's high school students. The school's Treehouse Boutique will also be open with their large selection of handmade goods, toys and books.
All of this and more makes for a perfect spring day, so join us.
Saturday, May 3rd, 12-4pm
Highland Hall Waldorf School
17100 Superior St.
Northridge, CA 91325
http://www.highlandhall.org
818-349-1394
About Highland Hall:
Highland Hall Waldorf School is located in Northridge, California. Founded in 1955, it is the oldest Waldorf School in the western United States and offers an independent alternative to public and other private schools, providing the Waldorf Curriculum from Early Childhood through High School graduation. Its mission is to guide students in the unique Waldorf curriculum, striving to endow each student with discernment in thought and action, a joy of learning, a sense of wonder and reverence for life.
Highland Hall's students graduate with solid academic foundations, the ability to think creatively, a sympathetic interest in the world, self-confidence, and an abiding moral purpose. They move on to renowned colleges and universities and continue on to accomplished careers in their chosen professions.
Further information may be obtained at highlandhall.org or by calling 818-349-1394.