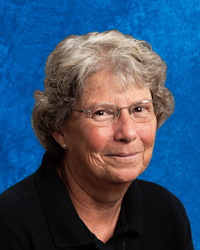 Her dedication and selfless work in suicide prevention and as a member of the Bergen County TLC is admirable.
Paramus, New Jersey (PRWEB) April 24, 2014
The CarePlus Foundation is proud to announce that Sister Mary Foley, Social Worker and Teacher at Academy of the Holy Angels, and her therapy dog Luke are among the honorees at the Courage Awards Gala on May 28, 2014 at the Venetian in Garfield, New Jersey.
Sister Mary and Luke have worked for years alongside individuals and communities struggling from traumatic events. Currently positioned as a Social Worker and Teacher at Academy of the Holy Angels, Sister Mary offers help to faculty and students in need. She has Master's Degrees in Divinity and Social Work, and is also a Certified Alcohol and Drug Counselor. As a member of the Bergen County Traumatic Loss Coalition (TLC) and Therapy Dogs International, Sister Mary travels to where she is needed with the help of Luke.
Luke, Sister Mary's therapy dog, was trained at Kuykendall Working Border Collies from 2002 to 2004. Luke works daily to relieve stress from faculty and students at Academy of the Holy Angels and has been a member of Therapy Dogs International since 2007. In his spare time, Luke works herding geese at Academy of the Holy Angels and Demarest Town Park.
"Over the past 8 years, Sister Mary Foley and Luke have worked tirelessly with schools and communities in the aftermath of a death or otherwise traumatic event. Her dedication and selfless work in suicide prevention and as a member of the Bergen County TLC is admirable," said Sue Heguy, Bergen County TLC Coordinator and CarePlus staff member. "We at the TLC have been in awe of the faith that fills Sister Mary's life and she continues to be an inspiration to the entire team," Heguy continued.
The Courage Awards Gala, now in its 16th year, honors and celebrates individuals, groups, and corporations who work tirelessly on behalf of others facing the daily and life-long challenges that are compounded by mental illness and mental health-related issues. This year's honorees include the Paramus Stigma Free Zone Task Force, a coalition of concerned citizens, business leaders, local government, and school officials that supports the elimination of stigma in the Paramus community; Steven Gavosto, a local business owner and former CarePlus Trustee who has been a strong proponent in the fight to end stigma. The night will also include recognition of the Compassionate Care Award presented to a staff member that truly represents the best in the field of mental health care in New Jersey, as well as 23 recipients of the 2014 Bernard Dubnick Scholarship.
The Courage Awards Gala includes a cocktail hour, dinner, silent and live auctions, raffle, and more. The Gala is the Foundation's largest annual fundraiser, attracting attendees from across the state, including representatives and supporters from the Northern New Jersey business community. The Foundation is currently welcoming sponsors and dinner guests. For more information, visit http://www.CarePlusFoundation.org or call 201-986-5070.
About Care Plus Foundation
The Care Plus Foundation – a supporting arm of Care Plus NJ – was created with a mission to decrease the stigma of mental illness and pave the way to accessibility of care for those looking to seek help. As a 501c(3) non-profit organization, all donations are tax deductible in accordance with Federal and State regulations.
Care Plus NJ, Inc. (http://www.CarePlusNJ.org) is a northern New Jersey provider of recovery-focused mental health, primary care, substance abuse, and family services that addresses the unique needs of individuals with a holistic approach to recovery and overall wellness. Operating out of 23 sites – including three outpatient centers located in Paramus, Fair Lawn, and Montclair, ten residential facilities, offices at three local hospitals, and seven community offices – their services are convenient to clients located throughout Northern New Jersey. They also provide educational programs on mental health-related topics to schools, organizations, and community groups; training topics including certified Mental Health First Aid, Suicide Prevention, Bullying Prevention and Crisis Planning and Intervention Strategies for Schools.